'New Mutants' Will Be PG-13 And Superhero Costume Free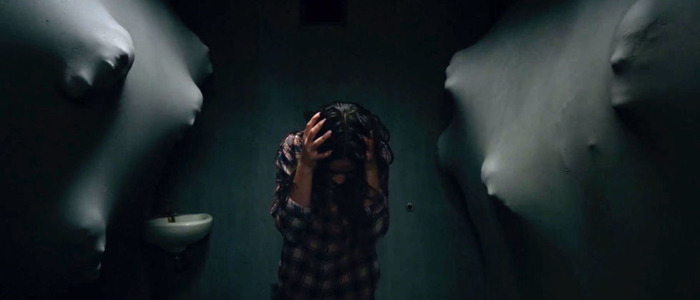 Josh Boone's New Mutants looked fairly promising, but it was recently pushed off the 2018 release calendar to 2019. As we wait for the film to arrive, Boone has offered some updates, including the confirmation that New Mutants is aiming for a PG-13 rating and that none of the characters will be decked out in superhero costumes.
When New Mutants was first announced, it was barely on my radar. The first trailer changed that, revealing that director Josh Boone was going for a horror movie vibe, with a plot that looks like it was plucked right out of A Nightmare on Elm Street 3: The Dream Warriors. Unfortunately, the film was recently pushed from its April 2018 release date to February 22, 2019. While we wait for the film, here are some fresh tidbits from director Josh Boone.
First and foremost, if you were hoping New Mutants would take its horror movie angle to the extreme and go for an R-rating, I regret to inform you that isn't the case. Speaking with Empire (via CBM), Boone says the film will not be R, but rather "the hardest PG-13 ever made":
"This movie is probably the hardest PG-13 ever made. I mean, we've pushed it. The horror is pretty dark, but there's also an emotional core, too. If I can scare you and make you cry: that's the goal."
There you have it: Josh Boone wants to make you cry. Boone goes on to reveal that even though New Mutants is technically a superhero film, don't expect anyone to step into the superhero costumes the characters wear in the comics:
"There are no costumes. That alone makes it different. They can't be with the other kids at the X-Mansion. They're too f***ed up. They've all killed people, whether intentionally or unintentionally."
Sounds xtreme. In the film, five young mutants are held against their will in a secret facility. They band together to escape, and then spooky things happen. Again, this is very similar to A Nightmare on Elm Street 3, in which the last surviving Elm Street kids are locked up inside an insane asylum. The kids soon learn that their dreams (and nightmares) have powers, and they're able to use these abilities to do battle with Freddy Krueger. Personally speaking, I'd much rather have seen New Mutants this year than Deadpool 2, but hey, that's me.
New Mutants stars Anya Taylor-Joy, Maisie Williams, Charlie Heaton, Henry Zaga, Blu Hunt, and Alice Braga. Boone, who also directed The Fault in Our Stars, wrote the script for New Mutants with Knate Lee.