'A Wrinkle In Time' Trailer: An Unexpected Hero Starts Her Journey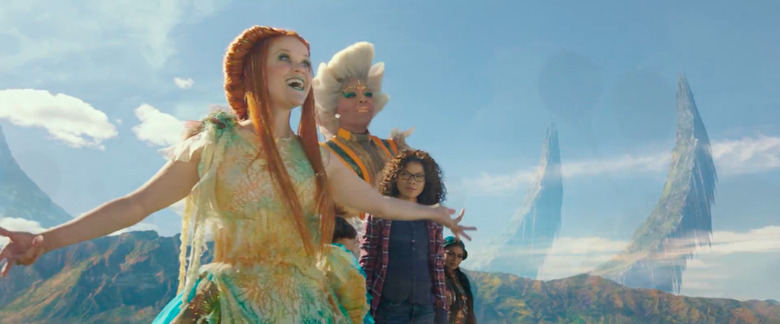 If Oprah tells you to "have faith in who you are," you darn well better.
13-year-old Meg Murry (Storm Reid) is a bit of an unconventional hero to set off on a quest spanning time and space, but aided by her gifted little brother Charles Wallace (Deric McCabe), her best friend Calvin (Levi Miller), and a trio of strange celestial beings (Oprah Winfrey, Reese Witherspoon, and Mindy Kaling), she has no choice to rise to the occasion. The new trailer for A Wrinkle in Time charts Meg's cautious hero's journey from school troublemaker to galaxy-gallivanting savior of her missing father. And it's all set to an empowering — and kind of cheesy — pop song.
A Wrinkle in Time Trailer
Director Ava Duvernay's lush visuals and her young star Storm Reid take center stage in the new trailer for A Wrinkle in Time. But this trailer also dedicates time to Meg's story before she goes on her world-saving journey, when she was simply a troubled young girl who lashed out at school in the wake of her father's (Chris Pine) year-long disappearance. After explaining her dad's work on the tesseract — a device that would allow him to "wrinkle" time and travel across the universe instantaneously — to her friend Calvin, she admits the toll that his absence has had on her. "You must miss him," Calvin comments. "More than anything in the universe," she tells him.
As much as I've raved about the sumptuous visuals and abstract story of A Wrinkle in Time, it's a welcome breath of fresh air to see the vulnerable, troubled girl at the center of the film. It grounds the film, which admittedly does threaten to be caught up in the gorgeous CG animation and wild story. If Duvernay can strike this balance in the final movie, A Wrinkle in Time may end up being one of my favorite movies of the year.
Here is the synopsis for A Wrinkle in Time:
Meg Murry and her little brother, Charles Wallace, have been without their scientist father, Mr. Murry, for five years, ever since he discovered a new planet and used the concept known as a tesseract to travel there. Joined by Meg's classmate Calvin O'Keefe and guided by the three mysterious astral 

travelers known as Mrs. Whatsit, Mrs. Who and Mrs. Which, the children brave a dangerous journey to a planet that possesses all of the evil in the universe.
The movie is directed by Ava Duvernay and stars Storm Reid, Oprah Winfrey, Reese Witherspoon, Mindy Kaling, Gugu Mbatha-Raw, Michael Peña, Zach Galifianakis, and Chris Pine.
A Wrinkle in Time is set to open in theaters on March 9, 2018.