Is 'Cloverfield Station' The Title Of The Next 'Cloverfield' Movie?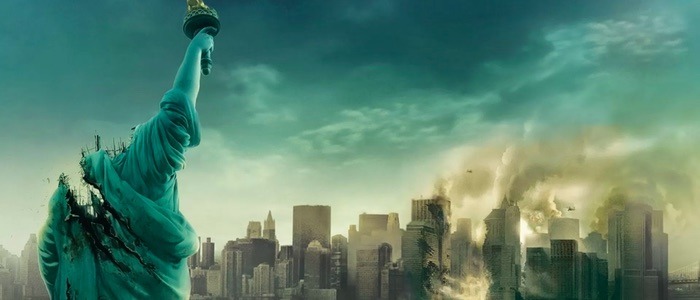 The next Cloverfield sequel has kicked off a cryptic viral marketing campaign, which includes at least two websites that fans can scavenge for clues. A release date for the film has also been confirmed for the spring, after being pushed back from February. But the one thing the third Cloverfield film is missing is a title.
The Cloverfield movies have always been veiled in secrecy, but the mystery of the third untitled Cloverfield has been the most infuriating, if only because its tentative title, God Particle, was already pretty darn good. But thanks to some eagle-eyed Reddit sleuths, we may have just found out the official Cloverfield sequel title.
A Reddit thread posits the potential title of the third Cloverfield movie to be Cloverfield Station. This rumor came about after a Redditor discovered that an FX lighting artist named Rui (Ray) Xu on Linkedin had listed "Cloverfield Station" among his credits. Now, this could all be chocked up to one of the many unsubstantiated rumors flying around Reddit, but since then, a Facebook and Instagram account have been discovered for the title, as well as domains for CloverfieldStation.com and CloverfieldStationmovie.com. Naturally, take all of this with a grain of salt, as this could be the work of mischievous internet users who claimed the domains after the rumor spread.
The official viral marketing for the third Cloverfield movie has revealed no hint of its actual title, only teasing information on a "revolutionary new energy technology" from Tagruato, the company that was likely responsible for awakening the huge monster that attacked New York in the first Cloverfield.
This would be an unusual way for a Cloverfield title to be revealed, but I wouldn't put it past the franchise's marketing department to test new ways to engage fans. 10 Cloverfield Lane's title was revealed merely two months before the movie's release, in a trailer in front of 13 Hours: The Secret Soldiers of Benghazi. Meanwhile, the original Cloverfield was actually a working title for the 2008 found-footage film, which stuck after the hype for the teaser trailer grew monumentally.
If official, Cloverfield Station would be an accurate, if on-the-nose title for a film about astronauts aboard a space station who, after an accident with a particle accelerator, discover that Earth has vanished. The plot thickens as the astronauts discover traces of another space station nearby. I will briefly mourn the loss of God Particle as a title, which is a term for the real Higgs boson — a theoretical particle that imbues all other particles in the universe with mass. Here's Bill Nye explaining it, just for clarity. The god particle is theorized to have a part in the eventual destruction of the universe, which is a subject ripe for movie-making. I'm sure the movie's subject won't be any different with a title change, but God Particle is so tantalizing a title that it feels like it would be a missed opportunity to call it something else.
The untitled Cloverfield sequel is directed by Julius Onah based on a script by Oren Uziel and Doug Jung. It stars Daniel Brühl, Elizabeth Debicki, Aksel Hennie, Gugu Mbatha-Raw, Chris O'Dowd, John Ortiz, David Oyelowo and Zhang Ziyi, and is due out April 20, 2018.