'Rampage' TV Spot: Dwayne Johnson Meets Even More Mutant Animals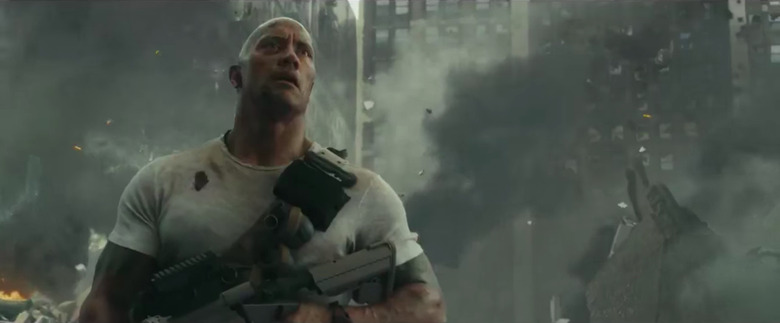 The bigger they are, the harder they fall.
And there is definitely a lot of falling in the latest Rampage TV spot, which is still very much a real movie and not a parody of every Dwayne Johnson movie ever. There are buildings falling, buses flying, and all sorts of city-leveling shenanigans taking place in the loose adaptation of the seminal '80s arcade games. But boy, the Rock sure does look cool.
Rampage TV Spot
"Of course the wolf flies," Dwayne Johnson's Davis Okoye says despondently in the new Rampage TV spot, perfectly encapsulating every thought I've had watching a Rampage trailer. Of course a giant wolf has been gifted with the power of flight. Of course a gentle gorilla has grown monstrously until he could rival King Kong. Of course the Rock is playing an impossibly buff primatologist who can pilot a helicopter and wield a machine gun.
Rampage is a movie that you can only accept with a bewildered grace, because at least Johnson always gives his all in the many over-the-top action movies he stars in ever year, half of which seem to take place in the jungle. But you know what? It works. The endlessly entertaining Jumanji: Welcome to the Jungle has topped the box office for the past three weeks. And Rampage knows its audience — the TV spot aired during the NFL AFC/NFC Championship on Sunday night.
Here is the synopsis for Rampage:
Primatologist Davis Okoye (Johnson), a man who keeps people at a distance, shares an unshakable bond with George, the extraordinarily intelligent, silverback gorilla who has been in his care since birth. But a rogue genetic experiment gone awry transforms this gentle ape into a raging monster. To make matters worse, it's soon discovered there are other similarly altered alpha predators. As these newly created monsters tear across North America, destroying everything in their path, Okoye teams with a discredited genetic engineer to secure an antidote, fighting his way through an ever-changing battlefield, not only to halt a global catastrophe but to save the fearsome creature that was once his friend.
Rampage is directed by Brad Peyton, and stars Johnson, Naomie Harris, Malin Åkerman, Joe Manganiello, Jake Lacy, Marley Shelton, and Jeffrey Dean Morgan. Rampage will swing into theaters on April 20, 2018.