'Three Billboards Outside Ebbing, Missouri' Sweeps The 2018 SAG Awards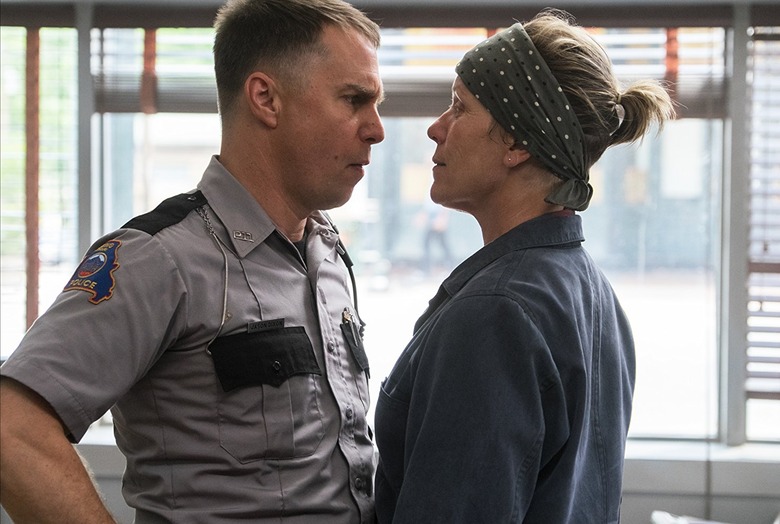 Three Billboards Outside Ebbing, Missouri has jumped to the front of the Oscar race again, scooping up three wins at the 2018 Screen Actors Guild Awards on Sunday night.
Check out the complete list of winners below.
Three Billboards Outside Ebbing, Missouri won three out of the six awards in the motion picture categories at the 2018 SAG Awards, which aired on TNT and TBS on Sunday night. Martin McDonagh's black comedy about female vengeance won the awards for best ensemble, while star Frances McDormand received another award for best actress after her wins at the Golden Globes and the Critics Choice Awards. Sam Rockwell won again for best supporting actor as well, his fifth award for his role as the racist cop who seeks redemption.
On the TV side, Big Little Lies won big, while Veep and This Is Us gained some historic wins for stars Julia Louis-Dreyfus and Sterling K. Brown.
The the actors branch comprises nearly 17% of the Academy of Motion Picture Arts and Sciences' membership, making the results of the SAG Awards a pretty clear indicator of the direction Oscar nominations will go in when they are revealed on Tuesday. However, the winner of the SAG Awards' biggest category, best ensemble, isn't always a guaranteed best picture shoo-in — only 11 winners in the past 22 years have gone on to win the coveted Academy Award. So this makes the race a toss-up between The Shape of Water and Three Billboards, right? Maybe. Despite The Shape of Water's big win at the PGA Awards Sunday, the fact that it was omitted for a SAG ensemble nomination could spell trouble for the movie — any film that hasn't been nominated for this category in the past two decades has almost never gone on to win a best picture Oscar.
Here is the full list of winners:
Outstanding Performance by a Cast in a Motion Picture:The Big SickGet OutLady BirdMudboundThree Billboards Outside Ebbing, MissouriOutstanding Performance by a Female Actor in a Leading Role:Judi Dench, Victoria & Abdul
Sally Hawkins, The Shape of Water
Frances McDormand, Three Billboards Outside Ebbing, Missouri
Margot Robbie, I, Tonya
Saoirse Ronan, Lady Bird
Outstanding Performance by a Male Actor in a Leading Role:Timothee Chalamet, Call Me by Your Name
James Franco, The Disaster Artist
Daniel Kaluuya, Get Out
Gary Oldman, Darkest Hour
Denzel Washington, Roman J. Israel, Esq.
Outstanding Performance by an Ensemble in a Drama Series:The CrownGame of ThronesThe Handmaid's TaleStranger ThingsThis Is UsOutstanding Performance by a Female Actor in a Drama Series:Millie Bobby Brown, Stranger ThingsClaire Foy, The Crown
Laura Linney, Ozark
Elisabeth Moss, The Handmaid's Tale
Robin Wright, House of Cards
Outstanding Performance by a Male Actor in a Drama Series:Jason Bateman, OzarkSterling K. Brown, This Is Us
Peter Dinklage, Game of Thrones
David Harbour, Stranger Things
Bob Odenkirk, Better Call Saul
Outstanding Performance by a Female Actor in a Television Movie or Miniseries:Laura Dern, Big Little LiesNicole Kidman, Big Little Lies
Jessica Lange, Feud: Bette & Joan
Susan Sarandon, Feud: Bette & Joan
Reese Witherspoon, Big Little Lies
Outstanding Performance by a Male Actor in a Television Movie or Miniseries:Benedict Cumberbatch, Sherlock
Jeff Daniels, Godless
Robert De Niro, The Wizard of Lies
Geoffrey Rush, Genius
Alexander Skarsgard, Big Little LiesOutstanding Performance by a Male Actor in a Supporting Role:
Steve Carell, Battle of the Sexes
Willem Dafoe, The Florida Project
Woody Harrelson, Three Billboards Outside Ebbing, Missouri
Richard Jenkins, The Shape of Water
Sam Rockwell, Three Billboards Outside Ebbing, MissouriOutstanding Performance by a Female Actor in a Supporting Role:Mary J. Blige, Mudbound
Hong Chau, Downsizing
Holly Hunter, The Big Sick
Allison Janney, I, Tonya
Laurie Metcalf, Lady Bird
Outstanding Performance by an Ensemble in a Comedy Series:Black-ishCurb Your EnthusiasmGLOWOrange is the New BlackVeepOutstanding Performance by a Female Actor in a Comedy Series:Uzo Aduba, Orange Is the New Black
Alison Brie, GLOW
Jane Fonda, Grace and Frankie
Julia Louis-Dreyfus, Veep
Lily Tomlin, Grace and Frankie
Outstanding Performance by a Male Actor in a Comedy Series:Anthony Anderson, Black-ish
Aziz Ansari, Master of None
Larry David, Curb Your Enthusiasm
Sean Hayes, Will & Grace
William H. Macy, Shameless
Marc Maron, GLOW
Outstanding Action Performance by a Stunt Ensemble in a Comedy or Drama Series:Game of ThronesGLOWHomelandStranger ThingsThe Walking DeadOutstanding Action Performance by a Stunt Ensemble in a Motion Picture:Wonder WomanBaby DriverDunkirkLoganWar For The Planet Of The Apes