HBO's 'Paterno' Trailer: A Weary Al Pacino Fields Questions About Jerry Sandusky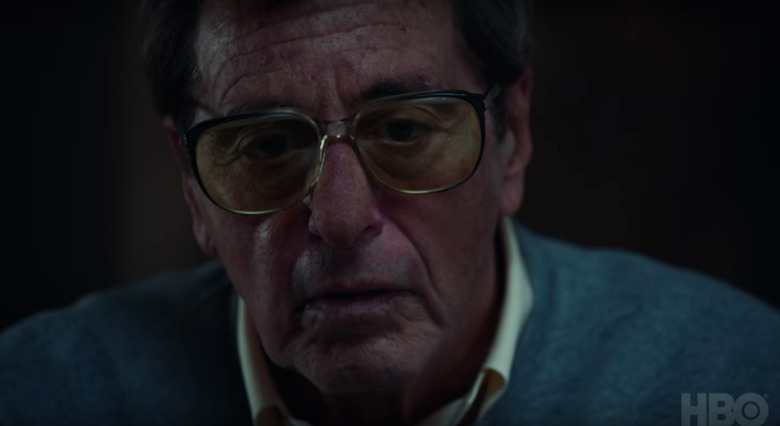 "Did you know about Jerry?"
The implicit accusation in those words resound through the short teaser trailer for Paterno, HBO's movie about the disgraced Penn State football coach whose shining legacy was tainted in the wake of a horrific child sex abuse convictions of his assistant coach, Jerry Sandusky. Al Pacino plays the titular Joe Paterno, a beloved football coach whose reputation bordered on idolatry in the small college town of Happy Valley.
Paterno Trailer
Paterno covers the two-week period between the revelations of Sandusky's 15-year history of sexually abusing children and firing of Paterno from his position at Penn State. The brief teaser shows us little except for flashes of the horrified expressions on Paterno's family's faces after learning about the scandal, the press hounding Paterno for a comment, and Al Pacino's own crestfallen face as Joe Paterno, the Oscar-winning actor looking weary and perhaps a tad guilty.
"The question isn't just what he knew, it's what he did about it," Pacino said during HBO's TCA presentation of the film, according to Indiewire. "I think he knew there were complaints. He knew there were rumors. [...] I don't think he was very fond of Sandusky, for whatever reasons — I think there were other reasons."
Paterno was a famed figure in the football and Penn State community, leading the college team through 46 seasons, winning 24 bowl games and two national titles. A statue of the coach was even erected outside Penn State's Beaver Stadium — a statue that was removed in 2012, a year after the scandal broke. But Sara Ganim, who won a Pulitzer Prize for reporting on the Penn St. scandal and worked as a consultant on the series, said the shockwaves from the Penn State sex abuse scandal are still felt today in Happy Valley.
"[Paterno's legacy is] still a hotly debated topic," Ganim said, after being asked about how local Penn St. fans feel about the coach today. "Unfortunately [...] it is a gray area for a lot of people. It's not known one way or another what people knew."
Here is HBO's official synopsis of Paterno:
After becoming the winningest coach in college football history, Paterno's legacy is challenged and he is forced to face questions of institutional failure. Academy Award® and Emmy® Award winner Al Pacino returns to HBO in the title role, as Penn State's Joe Paterno in the aftermath of the Jerry Sandusky sexual abuse scandal.
Paterno is slated to premiere on HBO in the spring of 2018.