Steven Spielberg's Next Movies Could Be 'Indiana Jones 5' And A 'West Side Story' Remake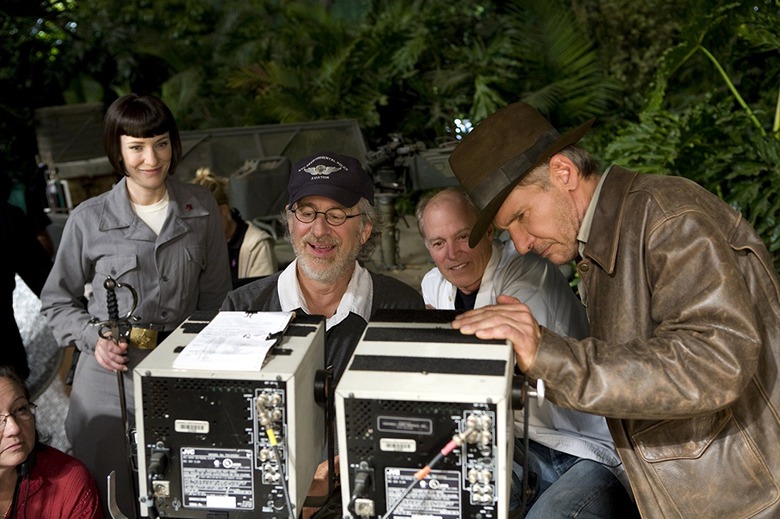 Steven Spielberg has remained a force in the film industry for over 40 years now, and the legendary director is showing no signs of slowing down.
Fresh off directing the acclaimed Oscar contender The Post and wrapping up production on the sci-fi blockbuster Ready Player One, Spielberg is already looking to get back in the director's chair. The next projects he reportedly wants to direct? The fifth Indiana Jones and a remake of the classic musical West Side Story.
Spielberg is reportedly eyeing Indiana Jones 5 and a West Side Story remake as his next directorial projects, sources familiar to the director told
.
West Side Story is apparently a passion project for Spielberg — the director has apparently long been interested in remaking the 1961 musical, itself an adaptation of Shakespeare's tragedy Romeo and Juliet. Deadline reports that frequent Spielberg collaborator Tony Kushner has been working on the script for West Side Story, which would be a modern version of the Arthur Laurents and Stephen Sondheim musical. Spielberg's career has spanned nearly every movie genre, with the director never balking from science-fiction, horror, historical dramas, and animated films, but this would be the first time he tackles a musical. The closest he's come to the genre was probably as executive producer of the musical TV series Smash, but this would be the first time he would actually direct a musical. That in and of itself is exciting enough.
Meanwhile, the state of the Indiana Jones sequel has remained in question since the tepid reception of 2008's Indiana Jones and the Kingdom of the Crystal Skull, but when Disney purchased Lucasfilm in 2012, the action-adventure franchise came along as a package deal. Spielberg has reportedly been considering Jurassic World star Chris Pratt to star alongside Harrison Ford in the fifth movie about the archaeologist action hero. Disney hired
and even set a release date for 2020. But since Spielberg works at his own pace, it's uncertain whether that date is set in stone.
That's not to say that Spielberg works at a sluggish pace. Far from it. In fact, Spielberg's workload could be described as frenzied: he's often taken on two movies back-to-back, like with last year's The Post and the upcoming Ready Player One. Multi-tasking Spielberg can produce some of his best work — remember when he released both Jurassic Park and Schindler's List in 1993? I wouldn't be surprised if he took on both Indiana Jones 5 and West Side Story at the same time.
But those will probably be the only films he's attached to direct for now. Deadline notes that his other project, The Kidnapping Of Edgardo Mortara, has fizzled out after an arduous casting call for the young Jewish lead turned up no results.