'Heathers' TV Show Trailer: Teenage Angst Still Has A Body Count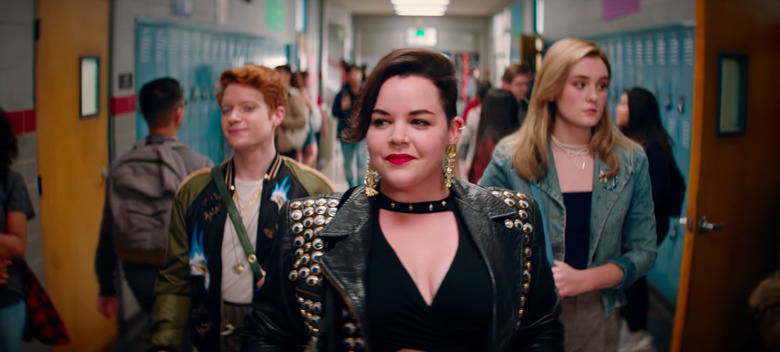 These aren't the Heathers you remember. In the 1988 cult classic, the original Heathers, played with icy conviction by Kim Walker, Shannon Doherty, and Lisanne Falk, were willowy, beautiful mean girls who terrorized their fellow high school students — until Winona Ryder and Christian Slater's rebellious outsiders took fatal action against them. Heathers was a heightened, sadistic satire of the pitfalls of high school whose body count would arguably not play well post-Columbine.
But here we are, with a modern reboot of Heathers, only with a new trio of Heathers cast as a body positive bully, a gender-binary guy, and an African-American fashionista. How very.
Heathers TV Show Trailer
Paramount Network, formerly known as Spike, is apparently going above and beyond to modernize its reboot of Heathers, with an impressively diverse cast making up the group of bullies at the top of the high school food chain. Ironically, the only conventionally thin, white characters are Veronica Sawyer and her sociopath boyfriend JD, whose status as the outsiders ring a bit hollow now. I can't be the only one who feels a bit discomfited about two white teens scheming to kill their LGBT, body-positive, and POC classmates.
"We're not doing irony anymore, keep up," Heather Chandler berates Veronica Sawyer in the raucous trailer, poking fun at the Gen-X attitude surrounding the release of the original Heathers. It verges on self-parody, especially with the appearance of '90s teen icons Selma Blair and Shannen Doherty (who played the wolf-in-sheep's-clothing Heather Duke in the original). The tone is so sardonic that it reminds me heavily of Ryan Murphy's messy, acerbic teen TV dramedies like Scream Queens — which may not bode well for the Heathers reboot.
The Heathers TV series stars Grace Victoria Cox as Veronica Sawyer, James Scully as JD, Melanie Field as Heather Chandler, Brendan Scannell as Heather Duke, and Jasmine Mathews as Heather McNamara.
Here is the official synopsis for the Heathers reboot:
Heathers is an hour-long pitch-black comedy anthology set in the present day, based on the 1988 cult classic film of the same name. The much-anticipated reboot perfectly blends drama, love, rivalry, and comedy into a modern-day masterpiece.
Heathers premieres on March 7, 2018 on the Paramount Network.