A 'Party Of Five' Reboot Is On The Way With A Modern Twist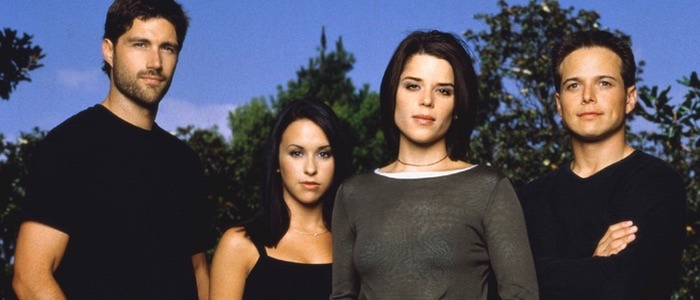 Did you want a Party of Five reboot? Well, even if you didn't, you're getting one anyway. Freeform, formerly ABC Family, just gave the go-ahead to a Party of Five reboot from the show's original creators Chris Keyser and Amy Lippman. Party of Five, the story of a bunch of siblings and their dead parents, ran from 1994-2000 and featured Neve Campbell, Matthew Fox, Scott Wolf, Lacey Chabert and Jennifer Love Hewitt.
In 1994, five siblings (a party of five, you could say) were forced to band together when their parents were killed in a car accident. This was the Salinger family, who graced FOX with their various family dramas for six seasons. The Salingers may be gone by now, but the concept of their show lives on in the new Party of Five reboot. Freeform just ordered a pilot from original Party of Five creators Chris Keyser and Amy Lippman, per Variety, and the new series will offer a modern-day twist on the scenario. In the new Party of Five, the five Buendias siblings must band together when their parents are unexpectedly deported to Mexico.
That certainly is a ripped-from-the-headlines style plot, what with news of controversial ICE raids flooding in daily. This also keeps the show seeming fresh rather than just rehashing the same storyline from the original. In other words: don't expect a Matthew Fox or Neve Campbell cameo. Just how much the new Party of Five retains from the original will remain to be seen. The original show had the Salingers taking over the family restaurant. Eventually, Jennifer Love Hewitt showed up, and got her own spin-off, Time Of Your Life. Remember that? I sure didn't!
The Party of Five reboot is just the latest addition to Freeform, a network that has been struggling to forge its own identity since its rebranding from ABC Family in 2016. The channel previously had the rights to the Marvel show New Warriors, but after positive early test screenings, Marvel and Disney yanked the show from the network, presumably because they felt that Freeform wasn't big enough to usher in a potential hit.
Deadline reports that the Party of Five reboot was originally brought to original Party of Five network FOX, but FOX passed on it as they have a similarly-themed immigration-based drama in the works called In the Country We Love. The overall message of the Party of Five reboot is this: no show is ever really gone forever. Except Firefly. Sorry, folks, we all know Firefly ain't comin' back.