'Beast Of Burden' Trailer: Harry Potter Is A Drug Mule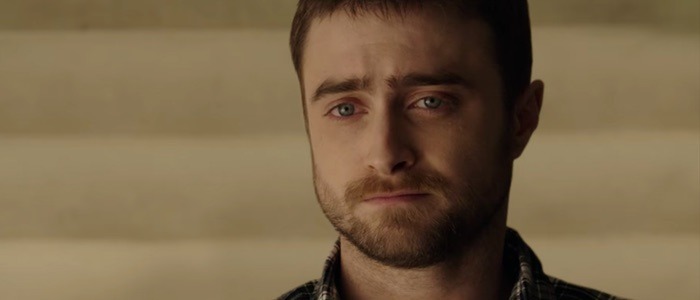 Daniel Radcliffe just went and got himself in over his head in the Beast of Burden trailer. The film (not to be confused with the Rolling Stones song) features Radcliffe as a man pushed to extremes to help save his wife. Lots of expository dialogue follows. Watch the Beast of Burden trailer below.
Harry Potter has really fallen on hard times since his Hogwarts days. In Beast of Burden, Daniel Radcliffe plays pilot Sean Haggerty, a man at the edge of his rope as he agrees to become a drug mule. Sean's motivations are pure, sort of: smuggling drugs will help his wife with a life-saving operation. At least, that's what I've gleamed from this exposition-heavy Beast of Burden trailer.
Beast of Burden trailer 
This is an interesting trailer. Moments of it border on being downright abstract, while others are loaded with scenes where characters are shouting out their motivations, i.e., "I only did this to save my wife!" I have a feeling this is simply the result of trailer editing, and not reflective of the film as a whole. Here's the official Beast of Burden synopsis.
Pilot Sean Haggerty (Daniel Radcliffe) must deliver cocaine across the US-Mexico border for his final run as a drug smuggler. Alone in a small plane, he is faced with the burden of choosing between his allegiance to the Cartel, his deal with the Drug Enforcement Administration and saving his increasingly tense relationship with his wife, eagerly awaiting his return.
Then there's the IMDb synopsis, which is slightly different:
Sean Haggerty only has an hour to deliver his illegal cargo. An hour to reassure a drug cartel, a hitman, and the DEA that nothing is wrong. An hour to make sure his wife survives. And he must do it all from the cockpit of his Cessna.
That synopsis makes me think Beast of Burden is going to be one of those "one man show" movies – you know the kind; the films that take place mostly in one location, focused on one specific individual. Think Ryan Reynolds stuck in a coffin in Buried, Colin Farrell trapped in a phone booth in Phone Booth, James Franco pinned between those rocks in 127 Hours, or Tom Hardy cruising around in his car in Locke. In other words, I expect this movie to be 90% focused on Radcliffe in the cockpit of his plane, shouting into a headset. Or I'm wrong!
Swedish filmmaker Jesper Ganslandt, who directed Blondie, The Ape, and several other films I confess I'm not at all familiar with, helms Beast of Burden, and in addition to Radcliffe, the cast features Pablo Schreiber, Grace Gummer, and Renee Willett.
Beast of Burden opens in select theaters, on VOD and Digital HD February 23, 2018.