Amazon Studios Cancels 'One Mississippi,' 'I Love Dick,' And 'Jean-Claude Van Johnson'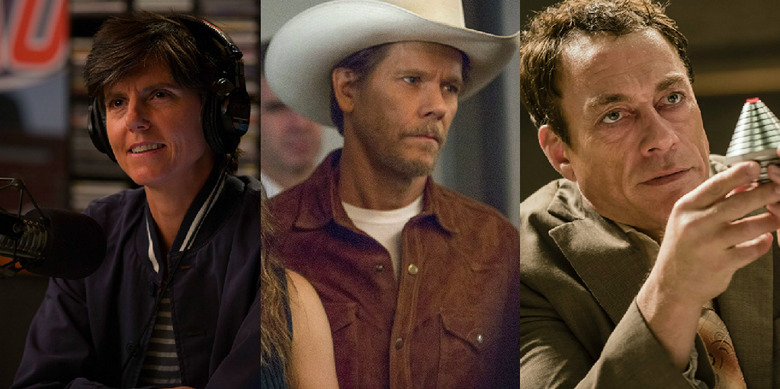 Three comedies have gotten the axe from Amazon Studios.
On the heels of the renewal of superhero comedy The Tick, the streaming service has cancelled three other shows, One Mississippi, I Love Dick and Jean-Claude Van Johnson.
Amazon has cancelled Tig Notaro's semi-autobiographical comedy One Mississippi, the provocative comedy from Transparent creator Jill Soloway I Love Dick starring Kevin Bacon and Kathryn Hahn, and Jean-Claude Van Damme's satirical Jean-Claude Van Johnson.
The Hollywood Reporter first broke the news, noting that all three comedies were picked up under former executives Roy Price and Joe Lewis, who were ousted amid allegations of sexual harassment and conflict of interest, respectively. "Amazon Studios is cleaning house," THR writes, suggesting that the cancellation of the three comedies are related to Amazon attempting to distance itself from Price and Lewis.
However, the choice to single out One Mississippi and I Love Dick is strange, considering both are enthusiastically feminist series both created by women. One Mississippi is a rare series created by a queer woman, starring and inspired by the life of comedian Tig Notaro, which received critical acclaim for its deft handling of grief and mental illness. However, the series was produced by FX Productions and Louis C.K., which may be the reason that Amazon cancelled the series in an attempt to cut ties with C.K. after his allegations of sexual misconduct.
I Love Dick, meanwhile, was created by Jill Solloway who still remains connected to Amazon through her acclaimed series Transparent — but that series fate remains in question as the show drops star Jeffrey Tambor amidst his sexual misconduct allegations. I Love Dick is a series based on Chris Kraus's memoir, following a  struggling married couple (Hahn and Griffin Dunne) who become drawn to an enigmatic professor, Dick (Kevin Bacon).
The last series to get the axe was Jean-Claude Van Damme's promising self-satire Jean-Claude Van Johnson, which starred the big-screen actor as a version of himself: a famous actor and martial-arts pro who comes out of retirement to resume his alter-ego as an undercover private contractor. It ran for one season.
Because Amazon doesn't release ratings, we don't know how well these shows were actually doing. And with the streaming service forgoing its Amazon pilot process in which it allowed viewers have a part in show selection based on the popularity of pilots, it seems that Amazon will — ironically — be losing some of the transparency that set it apart from its original content competitor, Netflix.
Meanwhile, Amazon retains the comedies Catastrophe, Transparent, Fleabag, and The Tick, as well as the delightful Golden Globe winner and new critical darling, The Marvelous Mrs. Maisel from Amy Sherman-Palladino and Dan Palladino. The Palladinos and Catastrophe's Sharon Horgan signed with Amazon for overall deals.