'The Tick' Season 2 Ordered By Amazon Studios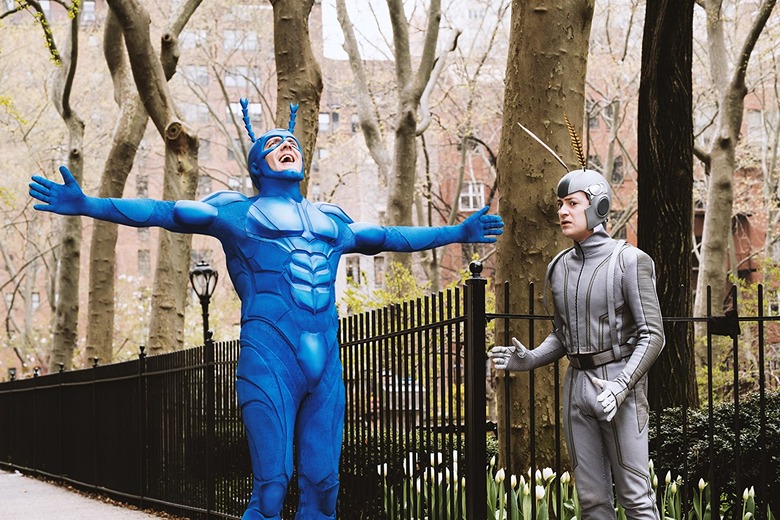 Attention, citizens: The Tick has officially been renewed for a second season.
The half-hour comic book comedy series starring Peter Serafinowicz as the oblivious titular blue-suited superhero who may or may not be a figment of mild-mannered accountant Arthur Everest's (Griffin Newman) imagination has been greenlit for its season 2 by Amazon Studios.
The Tick's 10-episode second season will begin production in 2018 and is expected to premiere in 2019 on Amazon Prime Video in over 200 countries, Amazon Studios announced on Wednesday. Created by Ben Edlund, the offbeat superhero comedy released its first six episodes on Amazon Prime in August 2017, with a plan to release the second half of its first season in February. In response to the season 2 renewal, creator and executive producer Edlund said:
"I am so excited that Amazon wants to continue this wildly fruitful collaboration and that this amazing cast gets to stay together, and that we get to build this mythos further, wider, deeper, and taller. We got a good ball of mud spinning with the right tilt of axis, I'm very happy we have this opportunity to keep peopling it."
I haven't yet gotten a chance to see the goofy, self-deprecating the series, but it's been met with rave reviews since it took over the 2017 San Diego Comic Con. USA Today's Kelly Lawler praised the series as "A smart parody of our current superhero obsession" while Daniel D'Addario at TIME said "Amazon is bringing some welcome wit and warmth to the genre."
"Ben has created a resounding hit while Peter and Griffin have brought Tick and Arthur to indelible life," added Amazon Studio's Sharon Yguado in the announcement of The Tick being greenlit for season 2. "We can't wait to bring fans more of the Tick universe soon."
Here is the official synopsis for The Tick:
In a world where superheroes have been real for decades, Arthur (Newman), an accountant with mental health issues and zero powers, comes to suspect his city is owned by a global super-villain, The Terror (Jackie Earle Haley) who has been long thought dead. As Arthur struggles to uncover the conspiracy he falls in league with a strange blue superhero – The Tick (Serafinowicz). They launch into an adventure brimming with crazed arch-villains, blood-soaked vigilantes, and superhuman freakery.
The first six episodes of The Tick are currently available to stream on Amazon Prime. The next six episodes of season 1 will be released on the streaming platform on February 23, 2018.