The 'Justice League' Blu-Ray Includes Only One Bonus Scene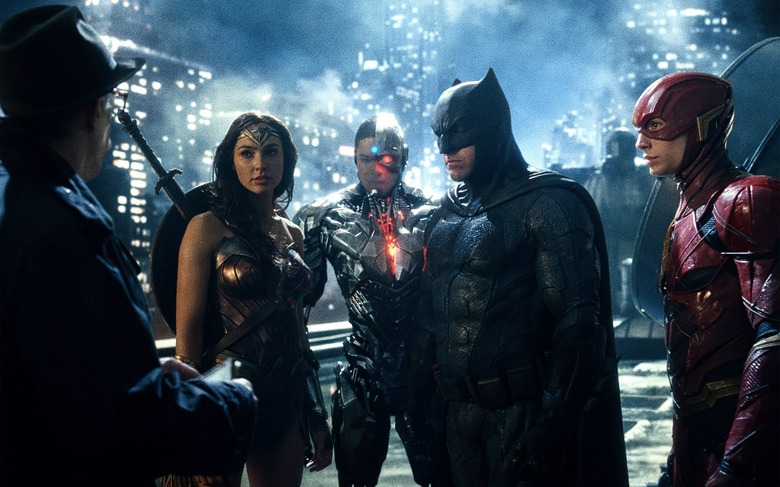 Try as they might, Zack Snyder fans won't be getting the director's special cut of Justice League they've been demanding. They may not even get the extended cut that was rumored to be included in the movie's Blu-ray release. Instead, it seems like fans will have to content themselves with only one bonus scene that wasn't included in Justice League's theatrical cut.
The Walmart listing for the Justice League Blu-ray + DVD + digital copy release suggests that the movie comes with merely one bonus scene in its still-unspecified special features.
"Includes BONUS SCENE not seen in theaters!" the cover for the special Justice League Walmart edition reads, along with pictures of special superhero-themed pins that customers can receive with the pre-order.
One bonus scene barely touches on the mysterious cut scenes that populated the Justice League trailers, and it's definitely not enough to make up the highly demanded "Zack Snyder Cut." Could a single scene account for those extra 15 minutes of footage that were rumored to be part of the Justice League Blu-ray release? Anyway, take all of this with a huge heaping of salt. Most likely, it's a deleted scene with one of the supporting characters, or a throwaway joke between the superpowered team members.
Justice League's embattled journey to the big screen was well-documented in the pop culture news cycle, which has inevitably led to the fevered speculation that still surrounds the movie and its different "cuts." There's the two-hour version that made it to theaters, helmed by Zack Snyder and finished by Joss Whedon, and there's an imagined "Zack Snyder Cut," which has spawned everything from a bonafide website to a 13-person protest outside the Warner Bros. headquarters demanding its release. These demands certainly won't curry favor with Warner Bros. executives, who are already in the midst of a studio "shake-up" after the disappointing box office returns of Justice League.Justice League is expected to be released digitally in February 2018. No Blu-ray and DVD release date has been announced yet, but it's expected to hit shelves in March 2018.