'Spider-Man: Homecoming' Sequel Hires 'Daredevil' Cinematographer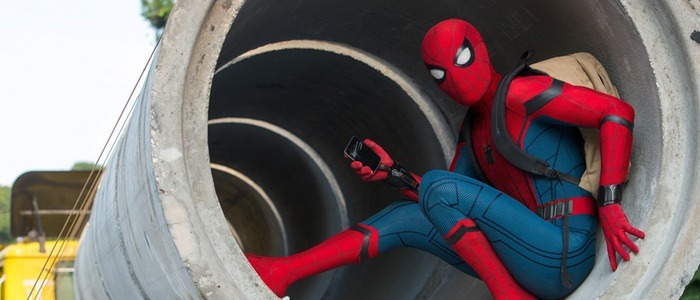 Better reinforce some hallways: the cinematographer behind Marvel Netflix shows like Daredevil and The Defenders has just landed the same gig for the Spider-Man Homecoming sequel. Matthew Lloyd will handle director of photography duties for the still-untitled Homecoming follow-up.
In what is clearly a sure-sign that Spider-Man will have a big hallway fight scene, Matthew Lloyd, the DoP behind Marvel Netflix shows Daredevil and The Defenders, has landed the plum gig of cinematographer for the Spider-Man: Homecoming sequel. MCU Exchange reports that a source inside the production confirmed Lloyd's involvement, with principal photography expected to take place over the summer of 2018.
This won't be the first time Lloyd has worked with Homecoming director Jon Watts: Lloyd also handled the cinematography on the filmmaker's Cop Car. Spider-Man: Homecoming's cinematographer was Salvatore Totino, who shot films like The Da Vinci Code and Frost/Nixon. No offense to Totino, but the look of Spider-Man: Homecoming left a lot to be desired (even though the film was a lot of fun), so it'll be interesting to see what Lloyd brings to the sequel.
Spider-Man: Homecoming 2 (or whatever it's going to be really called) will bring back original director Jon Watts and star Tom Holland. Chris McKenna and Erik Sommers, two of the six credited writers on Homecoming, will also be returning. For a while, Watts' return to the film was up in the air. Tom Holland previously said, ""[Watts] is coming back for the next one. We can't do another Spider-Man movie without Jon Watts," whereas Watts was a bit more vague about the whole deal, saying:
"For me it's one movie at a time. I can't wait to see Infinity War because I know what they're doing but I don't know the specifics. I feel like with Tom and with Spider-Man in this Marvel universe we're just scratching the surface of what we can do."
That said, this news all but confirms Watts' return. As for what we can expect in the sequel, story-wise, it's still a bit early to tell. But early reports indicate the film will pick up a "few minutes" after the end of Avengers 4. At least according to producer Amy Pascal, who said:
""What I think we should focus on is this Spider-Man who started in Civil War and then has this movie [Homecoming], and then will be in the Avengers movie. And we are starting now the next one which will start a few minutes after Avengers 4 wraps as a story."
Marvel Studios head cheese Kevin Feige offered his own take on the sequel, saying:
"Like how the events of Captain America: Civil War impacted Peter as he was dropped off by Tony and expected to go back to continue his sophomore year, how the hell are the events of Infinity War and Untitled [Avengers] going to affect him as he, yes, goes back to his junior year?"
The Spider-Man: Homecoming sequel is due out July 5, 2019.