Dave Bautista Was Told He Was Too Young For His 'Blade Runner 2049' Role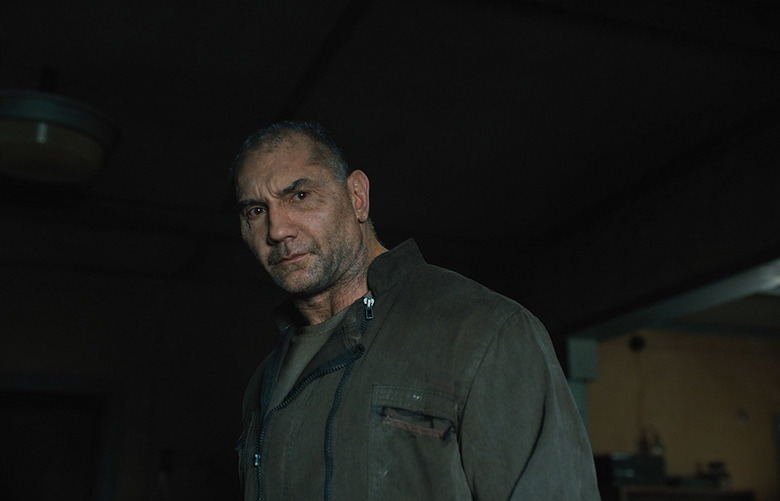 Towering at 6' 3" and boasting a thickset neck and torso, Dave Bautista is already an unlikely Hollywood star. The former professional wrestler and mixed martial arts fighter shot to stardom in 2014's Guardians of the Galaxy as Drax, the gruff musclehead alien with a heart, and continues to shine in intriguing roles like that of the Replicant Sapper Morton in Blade Runner 2049.
But Bautista nearly didn't get his memorable role in Denis Villeneuve's ambitious science fiction sequel. And it wasn't because of a poor audition or his intimidating height. It was because — at 48 years old — everyone thought he was just too young.
It sounds a bit strange to nearly discount a middle aged actor because he was too young for the part. However, Villeneuve envisioned Sapper Morton as a weary, older man — something that he thought the physically fit, energetic Bautista didn't embody, according to The Hollywood Reporter.
"Dave was such a charismatic and strong presence, but there was only one problem — he was too young to play that part," Villeneuve told THR. But Bautista eventually won the role over thanks to the efforts of make-up artist Donald Mowat, who gave the actor a grizzled, graying look.
Bautista was as baffled as you are that he almost lost out on the role because of his "young" age. He was already an anomaly for breaking out in Hollywood at the ripe age of 45 in Guardians of the Galaxy, in an industry where youth is a huge boon for many action stars:
"Throughout my experience in Hollywood, I was either too big or too old. I had never been told I was too young, and I just didn't know what to say. And then they got in touch with me and asked if I would go through some makeup tests to try and age me. I said, 'Of course.'"
But unlike the former wrestlers that broke into Hollywood before him, Bautista is not going the action star route. Bautista is not conventionally handsome like Dwayne Johnson or John Cena, and indeed his unique physique would make him an unlikely Hollywood actor — his shoulders too broad, his neck too thick, his head oddly shaped.
But Bautista has proven to be incredibly talented, radiating empathy and vulnerability in each of his roles. Instead of striking out with lead roles, Bautista has wisely chosen the character actor route, playing the scene-stealing supporting character in cerebral sci-fi flicks like Blade Runner 2049 or satirical space operas like Guardians of the Galaxy. He's become a genuinely interesting actor thanks to these unconventional career choices, and I look forward to what he does next. Ageism is still a powerful force in Hollywood, but Bautista has a promising future.