Iron Man's 'Avengers: Infinity War' Armor Revealed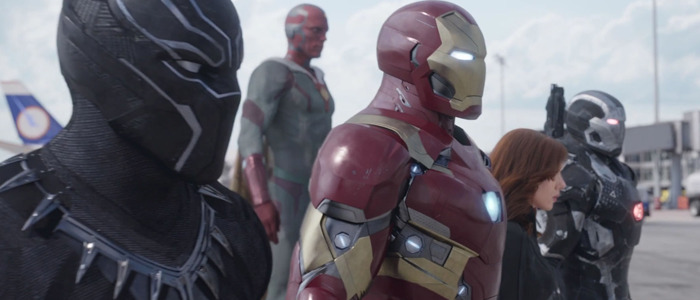 What version of the Iron Man suit are we at now? Mark 1,893? Robert Downey Jr.'s Tony Stark is an eternal tinkerer, and it's resulted in him creating 46 separate versions of the advanced armor that first helped him to bust out of a cave in Afghanistan.
The newest version will debut in the upcoming Avengers: Infinity War, but Marvel has been keeping a tight lid on the official reveal of the suit — perhaps waiting until the new Avengers toys hit shelves. But that hasn't stopped the suit from leaking out to the presses, and this time it's not because of a hastily taken set photo or concept art. The new Iron Man Infinity War armor has been revealed in a Disneyland Paris commercial..
Iron Man's new suit was teased in set photos back in June, and we began to piece together the look of Mark 47 thanks to concept art released later in the fall. Now the commercial for Disneyland Paris' "Summer of Superheroes" (via ScreenRant) reveals a full look at the suit in action.
It's a strange way to reveal the armor — the guy voicing Iron Man does at least try to sound like Robert Downey Jr., while the Disneyland Thor and Captain America are cheesy downgrades — but it does seem to confirm that Tony Stark will be donning the Prime Armor from the comics. Look at the ribbed detailing and sleek design.
Created by Brian Michael Bendis and Davis Marquez in 2015, the Prime Armor was Tony Stark's most sophisticated armor yet, with built-in nanotech that allowed Stark to morph the armor at will. It could transform into any of his old suit models as well as sprout various weapons, ranging from phasma cannons to swords. And, while we don't see this feature in the brief Disneyland commercial, he has wings!
We've seen some peeks at these wings on official Marvel merchandise for Infinity War, and will definitely provide that "Wow" factor when Stark pops them out in the film. It's too bad that in ultimate battle against the omnipotent Thanos, that beautiful, badass armor will probably get wrecked.
Here is the official synopsis for Avengers: Infinity War:
Iron Man, Thor, the Hulk and the rest of the Avengers unite to battle their most powerful enemy yet — the evil Thanos. On a mission to collect all six Infinity Stones, Thanos plans to use the artifacts to inflict his twisted will on reality. The fate of the planet and existence itself has never been more uncertain as everything the Avengers have fought for has led up to this moment.
Avengers: Infinity War, directed by Joe and Anthony Russo, hits theaters on May 4, 2018.