'Atlanta' Season 2 Teaser: Get Ready To Put The FX Show On Heavy Rotation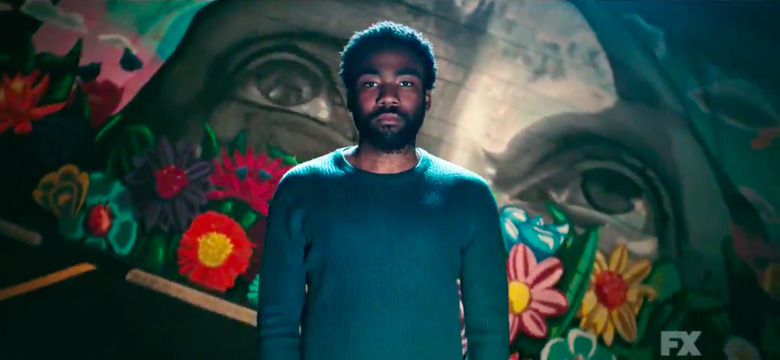 Donald Glover is continuing the pattern of releasing enigmatic, moody teasers for the second season of his hit FX show Atlanta, otherwise known as the Atlanta Robbin' Season.
The teasers remain as cryptic about the plot as the creators are, with Glover describing the season as an examination of the time of year between Christmas and New Years when people have packages stolen from their front steps.
Atlanta Season 2 Teaser
heavy rotation pic.twitter.com/Rcl9xadwjl

— AtlantaFX (@AtlantaFX) January 14, 2018
The teaser, which focuses on Glover's character Earnest "Earn" Marks, is in line with the show's surreal nature, emphasizing atmosphere over plot. Earn stares impassively at the camera as his world continually turns upside down, with familiar and unfamiliar settings appearing briefly in the teaser before Earn falls out of frame.
I'm not going to try analyzing this obscure teaser — except to maybe guess that Glover is pointing out the circular nature of his characters' lives in Atlanta — because it likely has nothing to do with the plot of Atlanta Robbin' Season. Instead, it's a way to reintroduce fans of the FX series back into the surreal, trippy world that Glover first brought to the small screen back in 2016. It feels like eons since we've last seen the acclaimed award-winning series, and it may as well have been with the show's two-year delay and co-star LaKeith Stanfield's rapid rise to stardom.
Other than the vague synopsis about "two cousins work through the Atlanta music scene in order to better their lives and the lives of their families," we don't know much about what will take place in Altanta season 2. However, the show's ambling season 1 didn't quite have a main narrative thread either, instead preferring to focus on character-driven episodes with a surreal twist. In an interview with Billboard, Glover gave a more detailed explanation of the intriguing subtitle:
"People have to get Christmas gifts so it's a time where robbery will go. You might get your package stolen from the front porch. It's just a very tense and desperate time."
Glover added, "Our characters are going through insane, desperate transitions so Robbin' Season is kind of a metaphor for all of our characters."
Atlanta Robbin' Season stars Donald Glover, Zazie Beetz, Lakeith Stanfield and Brian Tyree Henry. The season premieres on March 1, 2018 on FX.