Kyle MacLachlan Talks 'Twin Peaks', The Possibility Of Even More & Dougie [TCA 2018]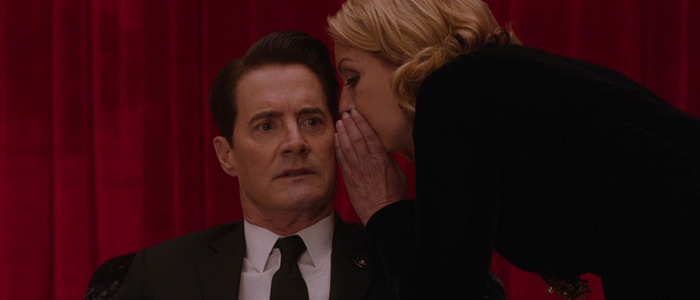 Kyle MacLachlan was on a Television Critics Association panel for the upcoming final season of Portlandia with Fred Armisen and Carrie Brownstein. After the panel, /Film was able to ask him about coming back to Twin Peaks: The Return, including his initial reaction to the character of Dougie. Plus, MacLachlan offered his own thoughts on the possibility of Twin Peaks season 4.
"I read the whole script in one fell swoop and the Dougie character was really intriguing," MacLachlan said. "To read it was one thing but when we finally put it on its feet and got the physicality of that character in place, which happened as we were close to starting, it became really clear. I really trusted David because you just hope that what you're doing is resonating the way it's supposed to and not something that's going to put people off, which maybe it did in the beginning. I think gradually people began to embrace Dougie as the show went on each episode. I think people came to realize that if Cooper comes back, then Dougie disappears and people began to really love Dougie."
When the real Cooper finally emerged, MacLachlan felt a tad rusty but quickly got his groove back.
"It was great," he said. "I was excited to get him back. It wasn't until the 16th hour so I was a little concerned that I [could] remember what I was doing, but it all came back in a great way."
During Showtime's TCA sessions, Showtime President David Nevins said he won't ask David Lynch when he will do more Twin Peaks. Nevins feels he should wait until Lynch comes to him on his own. MacLachlan echoes Nevins' sentiments.
"David's process is his own," MacLachlan said. "He will come to it if he comes to it, in his own time. That could be 10 minutes, it could be 10 years. I don't know. If we do decide to go again I would be absolutely excited to revisit doing it again. Those characters are always fascinating."
The ambiguous ending of Twin Peaks: The Return certainly leaves room for more, although that could be said for any David Lynch ending. MacLachlan is certainly not itching for more resolution.
"I have my own take on it, my thoughts about it as everyone has their own individual, which is really what David wants," MacLachlan said. "David's more about you experiencing the choices that he makes rather than trying to live up to something or fulfill something that you, as an audience, are expecting. So we all are just on the journey together."
You can see Kyle MacLachlan again when Portlandia returns for its final season January 18, 2018 at 10pm on IFC.