Will 'Top Gun: Maverick' Feature A New Love Interest For The Cocky Fighter Pilot? [TCA 2018]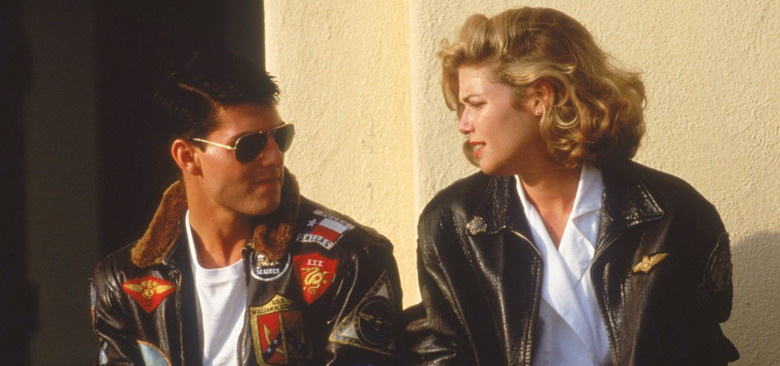 Screenwriter Justin Marks appeared on a Television Critics Association panel for his Starz series Counterpart (which we'll have more about in the coming weeks), but afterwards, we got the chance to ask about the screenplay for Top Gun: Maverick, of which Marks wrote an early draft.
Tom Cruise is back for the long-awaited, long-gestating sequel to the 1986 fighter pilot movie directed by the late Tony Scott, and Val Kilmer wants in too. But what about Kelly McGillis? Will she be back as Charlie? Or will there be a new Top Gun 2 love interest?
We asked if there could be a role for the astrophysicist and civilian Top Gun instructor in the sequel. After all, even if Maverick  and Charlie are no longer together, Charlie could still be a veteran instructor at Top Gun, right? Unfortunately, Marks was tight-lipped on her character's presence, but when discussing the prospect of a new love interest, Marks seemed to indicate one route that they wouldn't be taking.
Times have changed since 1986, and it's no longer all that appropriate or acceptable to have our hero quickly move on to another new, young love interest. After all, Cruise is 55 years old now. Marks acknowledges that was something they thought about.
"Without getting into details, that was something that was important to everyone to avoid, to find something new," Marks said. "I think [Producer] Jerry [Bruckheimer] would kill me if I told any specific details."
Since Marks wasn't able to dive into any revelations, he did vaguely offer up what we can expect from Maverick.
"Here's what I can say about what I brought to it," Marks said. "I know I want it to be a story about Maverick where we get to see Maverick being Maverick in the way we want him to be. I feel like times have changed in 30 years but the desire for that kind of hero still remains the same. That doesn't mean he's a perfect character. That's the fun of it."
Of course, Marks wrote an early script for Top Gun: Maverick, and things very well could have changed since then (especially since several writers have followed him). Marks has already moved on to Counterpart full time, and the project is out of his hands.
"I'm working on this show so I don't know what they're doing," Marks said. "They could be doing a lot of [different] things but I can speak about my script. I spent a year and a half doing the research for it, understanding pilots and understanding what makes them who they are. Also, because Top Gun was a seminal experience for me in the movie theater when I was six-years-old and I saw it seven times, no movie looked or sounded like it, I know what I, as a fan, would want to see."
Top Gun: Maverick is expected in theaters July 12, 2019. Otherwise, Counterpart premieres on Starz on January 21, 2018, and we'll have out full interview with Marks about the show in the week leading up to it.