'Little Bitches' Trailer And Exclusive Clips: A Hardcore Hall Monitor And A Desperate Call For Beer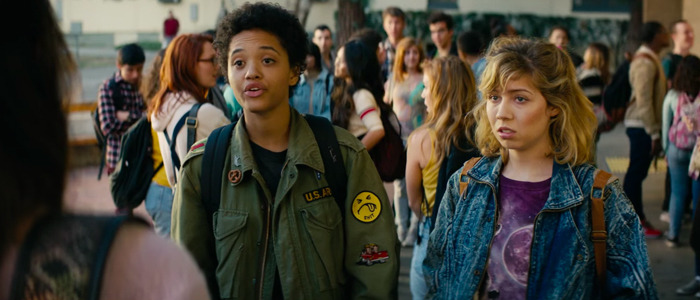 As we step further into 2018, it's now dawning on me that we're only a couple years away from looking back on the last ten years of filmmaking and assessing major industry trends that have happened over the past decade. And while I'll hold most of those observations until then, one of the things I've noticed is that, after an influx of teen comedies about 20 years ago, entries in that genre seem to have largely dropped off in the past few years.
But an upcoming film called Little Bitches proves that if you have a solid script and a talented young cast, the teen high school comedy will never go out of style. Check out the red-band trailer and two exclusive clips from the film below.
Little Bitches red band trailer
Another reason movies like this will never go away is because high schools are such fertile locations for hilarious moments: for the students, every decision can feel like life or death. But taking things that seriously often means there are copious ways for things to go wrong – and as the old saying goes, tragedy plus time equals comedy.
Jennette McCurdy, an actress who rose to fame on Nickelodeon shows that aired years after I was the appropriate age to watch them, stars in this one alongside Virginia Gardner (Marvel's Runaways, Project Almanac). But my three favorite performers in this cast are Kiersey Clemons, who was excellent in Dope and has been cast as Iris West in the eventual The Flash solo movie; Moises Arias, who stole every scene he was in as a delightfully bizarre character named Biaggio in 2013's The Kings of Summer; and Karan Soni, who you may recognize as being in a bunch of AT&T commercials or playing the cab driver Dopinder in Deadpool, but who also made a splash in 2012's indie time-travel comedy Safety Not Guaranteed.
I'm getting some real Superbad vibes from this – except with female leads, and cop characters that seem way more aggressive and extreme than the ones played by Bill Hader and Seth Rogen in that 2007 movie.
In addition, we also have two exclusive clips from the movie. The first expands on a scene that we see in the trailer, and the second shows us the lengths these characters will go to in order to score some alcohol:
Here's the official synopsis:
Two best friends try to reconnect with a former friend before an end-of-senior-year party at which they had all planned to open their college acceptance letters at the same time.
Little Bitches will be available on digital beginning January 23, 2018.