'Breaking In' Trailer: Payback Is A Mother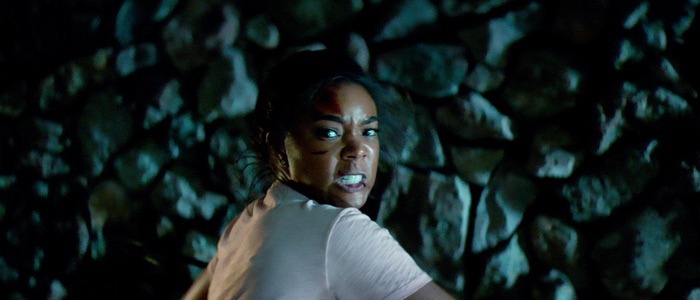 Gabrielle Union is going to kick everyone's ass in Breaking In, a new thriller that plays out like a reverse Panic Room. When Union's kids are taken hostage in a high-tech house, her only recourse is to beat the hell out of literally everyone in her way. The new Breaking In trailer is here, and it looks glorious.
Hey, this looks fun! An action thriller that combines both Panic Room and one of those classic '90s action movies where a team of bad guys discover they messed with the wrong person at the wrong time. In Breaking In, Gabrielle Union has a very special set of skills, and those skills include punching and kicking everyone who stands in the way of her and her children. Please enjoy the following Breaking In trailer responsibly.
Breaking In trailer
This trailer has everything! Explosions! Danger! Tension! A smart house! A generic bad guy saying, "YO!" Gabrielle Union saying, "I'm just a mom, you have no clue what I'm capable of!" And then there's that amazing tagline: Payback Is A Mother. Yes, hell yes – put this movie in front of my face. Here's the Breaking In synopsis:
Next Mother's Day, Gabrielle Union stars as a woman who will stop at nothing to rescue her two children being held hostage in a house designed with impenetrable security. No trap, no trick and especially no man inside can match a mother with a mission when she is determined on Breaking In.
Oh, Christ, and it comes out on Mother's Day, too? This is perfect. Good work, everyone behind Breaking In. James McTeigue, who helmed V For Vendetta, directs the film, with a screenplay by Ryan Engle, based on a story by Jaime Primak Sullivan. Union produced the film along with James Lopez, Craig Perry, Sheila Hanahan Taylor and Will Packer. In addition to Union, the cast that includes Billy Burke (the Twilight series), Richard Cabral (End of Watch), Seth Carr (Black Panther) and Ajiona Alexus (Empire).
Please, everyone go see this movie so it can launch a franchise where Gabrielle Union keeps having to beat the crap out of people. There are so many other places her character can be locked out of and then have to smash her way into! A museum! A cruise ship! An opera! A funeral! The possibilities are endless. Give us the Breaking In, franchise, Hollywood. We've earned it.
Breaking In breaks into theaters May 11, 2018.