Starz Says Neil Gaiman Will Showrun 'American Gods', Gaiman Says No [TCA 2018]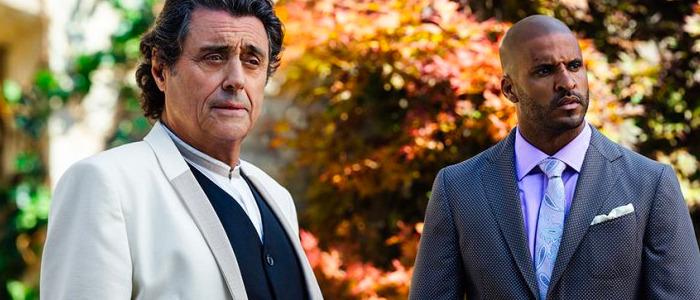 Starz CEO Chris Albrecht spoke to the Television Critics Association on Friday. When asked about the departures of American Gods showrunners Bryan Fuller and Michael Green, and cast member Gillian Anderson, who played the god Media, Albrecht said author Neil Gaiman, who wrote the novel that the show is based upon, would be promoted to showrunner.
"Neil Gaiman will be moving into a more traditional showrunner function," Albrecht said. "We're looking for a partner for him to ensure the television part of this gets the appropriate attention."
Update: Neil Gaiman responded to this quote on twitter denying that he would be fulltime showrunner on American Gods:
I'm already showrunning GOOD OMENS and I won't be physically showrunning two shows. But I plan to work really closely with the new showrunner, and to help plot and guide and build American Gods, just as I did when Bryan & Michael came on as showrunners.

— Neil Gaiman (@neilhimself) January 12, 2018
Albrecht also indicated that Fuller and Green would remain involved in some capacity.
"Bryan and Michael will be involved as much as they can be," Albrecht said. "It's a little bit up in the air as to what their exact role would be. A lot of that is between Freemantle, Neil and Brian and Michael. This is one we do through an outside production company. We're not in direct negotiations. It goes through our partners. It is a big show. It is a monster show. It's faced many of the challenges that terrific, complex, premium shows face in trying to get a successful season"
While Starz was not directly involved in negotiations with Fuller and Green, Albrecht clarified that they did not quit the show or get fired.
"They were not fired, nor did they quit," Albrecht said. "There's a very good relationship between Freemantle and Michael and Bryan. Everyone is trying to work this out and have this be a win-win for the people involved and the show itself."
Budgetary issues have held up the second season of the show and both Starz and the production company are trying to find a sustainable number to hit on a weekly basis.
"Not surprisingly, it's not an inexpensive show," Albrecht said. "I think budget is always a factor although Freemantle has been really terrific about being willing to invest. This is about a vision that can be [maintained] on a regular basis. [It's] obviously not ideal to have two years in-between seasons. Freemantle needs to know there is a formula to get the show on. We'd like to know as well. It might be the thing Bran and Michael are doing in their schedule has not allowed them to focus in the way Freemantle wants them to, but I don' know."
Anderson's departure did not come as a surprise to Albrecht.
"I think here's been some confusion around the cast exits," Albrecht said. "Gillian Anderson seems to be leaving everything, but it wasn't a surprise she wasn't going to be able to come back."
Rumors of Kristin Chenoweth, who plays the god Easter, leaving the show have been exaggerated.
"Kristin Chenweth as far as we know is still committed to the show pending her availability," Albrecht said. "As you see, we're having some trouble getting the second season underway. It's an incredibly difficult adaptation of a fantastic novel. Bryan and Michael working with Neil have done a phenomenal job. Our partners at Freemantle are working out with Bryan and Michael with their schedules a way to continue to be involved."