'You Were Never Really Here' Trailer: Joaquin Phoenix Has His Own Particular Set Of Skills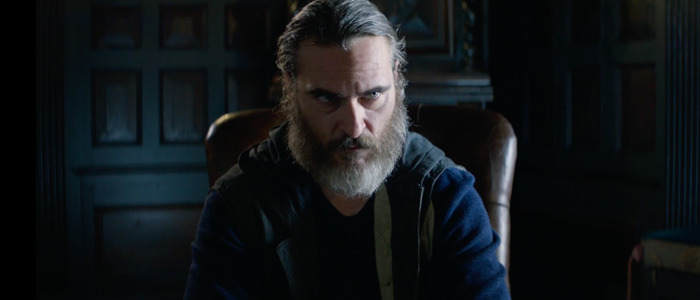 After a six year break from features, director Lynne Ramsay (We Need to Talk About Kevin) is back with You Were Never Really Here, a film that looks to be a cross between Taken and Taxi Driver. This violent drama debuted at last year's Cannes Film Festival and earned high praise from those who caught it, and it's easy to see why: this movie looks like it rules. Check out a new UK trailer for the film below.
You Were Never Really Here trailer
Based on a 2013 novella from Bored to Death creator Jonathan Ames (side note: this movie could not look more different than Bored to Death), the story follows a veteran (Phoenix) who uses his own particular set of skills to find girls who have gone missing. As the violence and intensity ratchets up, things start to spin out of control for him.
If that stylish trailer – with its Taken-esque foray into the sex trade and an overt nod to Robert De Niro's Travis Bickle during the mirror interaction at the end – isn't enough to get you fully on board, maybe you'll be interested to hear from those who have seen the full film already. The Guardian says it "teeters perpetually on the verge of hallucination, with hideous images and horrible moments looming suddenly through the fog," Vulture says that "visually and stylistically, Ramsay has never been more assured," and The Film Stage calls it "one of the most ferocious indictments of systematic abuse of power and gender violence ever projected on a screen."
The movie's score from Radiohead's Jonny Greenwood is getting some high praise, too, with Birth.Movies.Death referring to it as "possibly [his] best score to date" and "a real scorcher." That's especially impressive, considering Greenwood provided the scores for movies like There Will Be Blood, The Master, and Phantom Thread. Ekaterina Samsonov, Alex Manette, John Doman, and Judith Roberts co-star.
And if all that somehow still isn't enough to sway you, Ramsay won the Best Screenplay award and Phoenix won the Best Actor award at Cannes for his haunted, physical performance, so it seems like there's actually some real meat to this movie beyond just a well-cut trailer.
You Were Never Really Here plays at the Sundance Film Festival later this month (where I'm hoping to catch a screening and report back to you all), and Amazon Studios will release it wider on April 6, 2018.