Robert Knepper Will Not Return For 'iZombie' Season 5 [TCA 2018]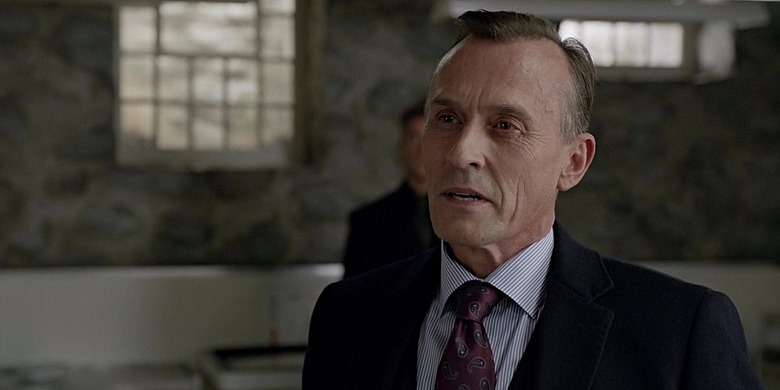 In the wake of the Harvey Weinstein allegations and #metoo movement, five women accused actor Robert Knepper of sexual misconduct. Fans of The CW's iZombie had hoped he would be removed from the show, but The CW conducted an investigation and decided to allow him to finish the upcoming fourth season. CW President Mark Pedowitz told /Film at the Television Critics Association press tour that Knepper would not return to the show after his current arc concludes.
"Robert only had a one year deal anyway," Pedowitz said. "His character had a definitive path. You'll find out when you watch the series what happens. That was decided way ahead of time, had nothing to do with the allegations."
Knepper has recurred on iZombie since season 1, but was promoted to a series regular. Fans may feel relief that, should the show be renewed for a fifth season, it can move on without him, even if the assaults were not the reason his tenure ended.
"When the past allegations came up, we were about two thirds of the way on the shooting schedule," Pedowitz explained. "The studio did an investigation. They did one investigation. The studio did a second investigation. Again, the investigation related to the set and his behavior on the set. They found no wrongdoing on the set. I supported the decision to continue going forward. Robert finishes up shooting I think by next week."
Warner Brothers Television, which produces iZombie, also produces The Flash and Supergirl. They did fire producer Andrew Kreisberg, a producer on those latter shows, for sexual harassment.
"Again, the studio is the employer," Pedowitz said. "The studio did the investigation. The studio found certain behavior they found unacceptable. The studio talked to us and we agreed with the studio's course of action. That's where it is."
Pedowitz's hands may be tied when the incidents did not occur on the shows his network airs. However, he affirms his support of people coming forward and promises a safe atmosphere for them to do so.
"That's why, when people feel safe enough to raise a complaint, the complaints get investigated," Pedowitz said. "If the investigation shows a pattern of behavior of sexual misconduct or sexual harassment, then it should be addressed and the individual should be held accountable."
iZombie returns on February 26 on The CW.