Shane Black Is Writing A Reboot Of The 1960s 'The Avengers' TV Show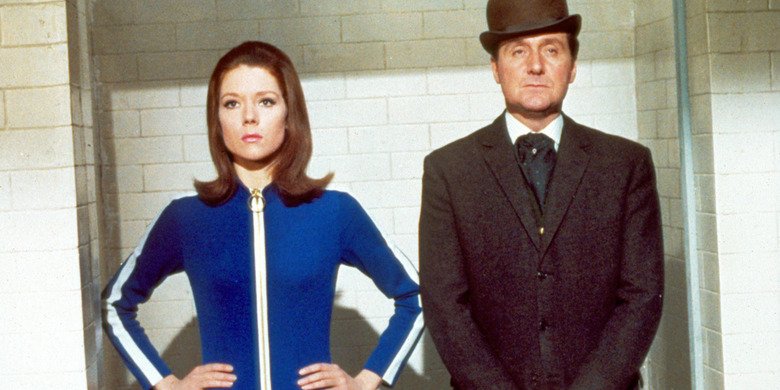 Shane Black has worked with one kind of Avenger in Iron Man 3, but he may be setting his sights on a different Avengers team. The Nice Guys director, who is currently knee-deep in post-production on The Predator, has reportedly co-written a script for a TV reboot of the British 1960s spy series The Avengers. And to be fair, they had the name first.
In a career retrospective with The Dark Side Magazine (via ScreenRant), Black's frequent writing partner Fred Dekker revealed that he and Black are working on a script for a TV reboot of the beloved 1960s spy series The Avengers for Warner Bros. Dekker said:
"It's The Avengers, with John Steed and Emma Peel. We're setting it in Britain in the 60's, and our approach is The Ipcress File meets Doctor Who. At this moment, it's my favorite thing we're working on."
The Avengers, which premiered in 1961, was part of the first wave of the 1960s spy TV series craze. The phenomenon was kicked off by the intense popularity of Ian Fleming's James Bond novels and the films that followed it, which created a slew of imitators on both TV and film, including beloved series like Mission: Impossible, Get Smart, and The Man From U.N.C.L.E. Hell, even the Adam West Batman series took some cues from the espionage wave of the '60s.
The Avengers featured a revolving door of gentleman spies and their beautiful assistants — you can see here where the Doctor Who parallels are — but the most iconic pairing was Patrick McNee's John Steed and Diana Rigg's Emma Peel. Rigg, who is probably best known to modern audiences as Olenna Tyrell in Game of Thrones, became something of a fashion icon in Britain with her skin-tight catsuits and mod dresses. In another Marvel connection, Rigg's catsuit inspired the costume design of Kate Bishop's Hawkeye in Matt Fraction and David Aja's Hawkeye comic book series.
A modern reboot of The Avengers was already attempted in 1998 with a feature film starring Ralph Fiennes, Uma Thurman, and a very campy Sean Connery, but the movie failed miserably, critically and at the box office. But if anyone can nail down the wry, tongue-in-cheek tone of The Avengers, Shane Black can. He's got a solid track record with darkly humorous buddy-cop comedies (Lethal Weapon, Kiss Kiss Bang Bang) though he's never written a male-female partnership before. But The Avengers is a lesser-known series outside of hardcore Diana Rigg fans or its British audience, so Black has the benefit of zero expectations for this series. The only problem is that name. Maybe they can call it..."The Revengers"?