Carrie Brownstein Adapting Her Memoir As A Hulu Series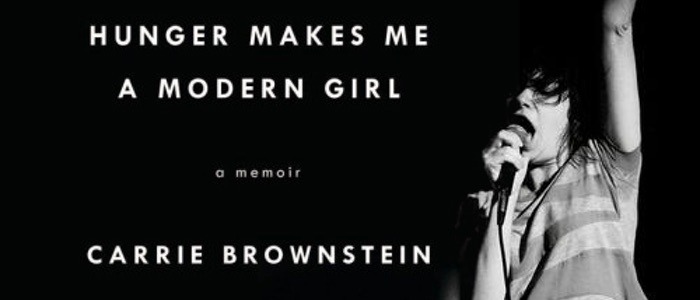 Carrie Brownstein, of Portlandia and Sleater-Kinney fame, will adapt her memoir Hunger Makes Me A Modern Girl into a half-hour comedy series for Hulu. Titled Search and Destroy, Brownstein will write and direct the series. This basically means we're going to be blessed with a Sleater-Kinney TV series, and that's pretty darn exciting. More info on the Carrie Brownstein TV series below.
Carrie Brownstein, one-third of the band Sleater-Kinney, found a whole new form of popularity when she and Fred Armisen launched the sketch comedy show Portlandia. Now Brownstein is combining her filmmaking skills with her formative Sleater-Kinney years in the Hulu series Search and Destroy. Per Deadline, the series will be loosely based on Brownstein's memoir 2015 Hunger Makes Me A Modern Girl, "as well as her experiences as a young musician growing up in the Pacific Northwest during the underground feminist punk-rock movement in the 1990s. It's described as a show about a young woman, a band, and a community learning how to be unafraid of their own noise."
As a Brownstein fan, and as a Sleater-Kinney fan, I can't even begin to tell you how exciting I find all of this. We're basically going to have a Sleater-Kinney TV series, folks. This is so close to realizing my dream of making a show where Sleater-Kinney drive around in their tour bus solving spooky mysteries like in Scooby-Doo. Formed in 1994, Sleater-Kinney features Brownstein, Corin Tucker and Janet Weiss. The band toured and released albums up until 2006, then they went on hiatus. Some feared the break might be permanent, but Sleater-Kinney reunited in 2014, and released the album No Cities to Love in 2015.
Here's the official synopsis for Brownstein's memoir that will serve as the basis for the show:
Before Carrie Brownstein became a music icon, she was a young girl growing up in the Pacific Northwest just as it was becoming the setting for one the most important movements in rock history. Seeking a sense of home and identity, she would discover both while moving from spectator to creator in experiencing the power and mystery of a live performance. With Sleater-Kinney, Brownstein and her bandmates rose to prominence in the burgeoning underground feminist punk-rock movement that would define music and pop culture in the 1990s. They would be cited as "America's best rock band" by legendary music critic Greil Marcus for their defiant, exuberant brand of punk that resisted labels and limitations, and redefined notions of gender in rock...HUNGER MAKES ME A MODERN GIRL is an intimate and revealing narrative of her escape from a turbulent family life into a world where music was the means toward self-invention, community, and rescue. Along the way, Brownstein chronicles the excitement and contradictions within the era's flourishing and fiercely independent music subculture, including experiences that sowed the seeds for the observational satire of the popular television series Portlandia years later.
Of course, as previously said, the show will be loosely based on Brownstein's memoir, which means it won't really be a Sleater-Kinney TV show. But folks, I can dream. Just let me have that dream, okay? Brownstein already has a history with Hulu: she's directed episodes of the Hulu series Casual. She'll make her feature directorial debut with Fairy Godmother. I will now leave you with the music video for Sleater-Kinney's "Entertain."