'Beirut' Trailer: Jon Hamm Tries To Save A Life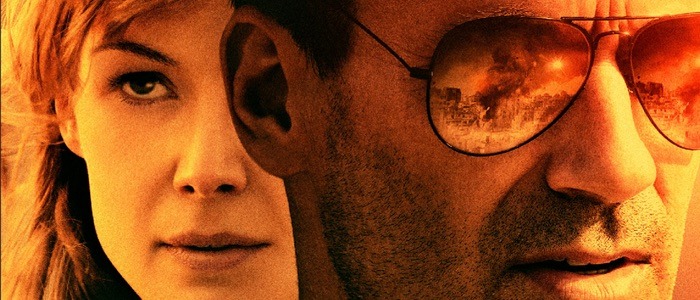 Jon Hamm and Rosamund Pike, two talented actors who deserve a lot more work, star in Beirut, a new drama from Session 9 director Brad Anderson. The first Beirut trailer offers a pulse-pounding look at the film.
Jon Hamm delivered a consistently fantastic performance for years on Mad Men, and Rosamund Pike performed jaw-dropping work in Gone Girl, yet neither of these actors seem to have quite as big a career as they deserve. Now, Hamm and Pike are together in Beirut, a new thriller from Brad Anderson, the filmmaker behind Session 9 and The Machinist. The script comes courtesy of Tony Gilroy, who also wrote the Bourne trilogy and Michael Clayton. The first Beirut trailer can be seen below.
Beirut trailer
This is a fairly intense trailer. It's also a bit...muddled? There's a lot of information here, to the point where entire plotlines are literally being spelled out in words across the screen (THE AMERICANS WANT TO KEEP THEIR SECRETS, THE ISRAELIS WANT TO RAISE THE STAKES!). That said, Anderson is an impressive filmmaker – Session 9 remains one of my all-time favorite horror movies, although Beirut looks very far removed from that. In the film, which is set in the 1980s, Hamm plays a former diplomat still grieving the death of his family. He gets called back into action to help rescue a former colleague. Pike plays an undercover CIA agent, who, from the looks of this trailer, spends a good portion of the movie lounging around, saying droll things and shooting cutting glances at people.
Beirut was originally announced back in 2015, when it was known by the title High Wire Act. The film began shooting in 2016, which might raise an eyebrow or two – usually when a movie takes this long to find its way to the screen, there are some issues. Or I could just be reading too much into things, and Beirut could turn out to be a top-notch political thriller. We shall see!
In addition to Hamm and Pike, Beirut also stars Dean Norris, Shea Whigham, Larry Pine, and Mark Pellegrino. Here's the official synopsis:
A U.S. diplomat (Jon Hamm) flees Lebanon in 1972 after a tragic incident at his home. Ten years later, he is called back to war-torn Beirut by CIA operatives (Rosamund Pike) to negotiate for the life of a friend he left behind.
Beirut will premiere at the 2018 Sundance Film Festival this month before being released in theaters on April 13, 2018.