'Ghost Stories' Trailer: Martin Freeman Is One Of Three Spooky Cases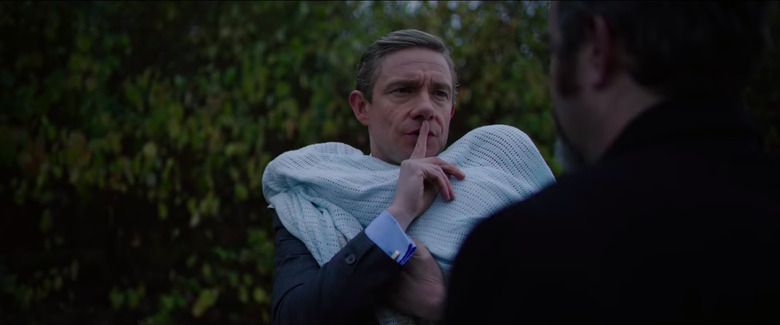 Martin Freeman and mysteries seem to go hand-in-hand, but instead of playing a modern-day Sherlock Holmes' trusty sidekick, the British actor finds himself on the other side of a case.
Freeman plays one of three "ghost stories" being investigated by a skeptical professor (Andy Nyman) in Ghost Stories, a British horror film based on Nyman and Jeremy Dyson's stage play of the same name. You can watch the new trailer below.
Ghost Stories Trailer
"Things are not always as they appear."
The cases in Ghost Stories aren't quite elementary for Nyman's skeptical Professor Phillip Goodman, who follows the threads of three eerie supernatural cases after he receives a mysterious letter from his dead mentor. He meets three men who are suffering from demonic visions, each more inexplicable from the last. Fittingly, it feels very Sherlock Holmes — Freeman's presence feels like a mischevious wink at the similarities — except the ghostly cases may turn out to be true.
The trailer is spooky, full of dread, and incredibly British — which makes sense, since it's based off the acclaimed stage play by Nyman and Dyson, who both direct the film adaptation. It's an unusual to see the horror genre on stage and I can't think of many other horror movies that are based on plays, except for perhaps Jack Clayton's 1961 British gothic film The Innocents, which was based on William Archibald's stage adaptation of The Turn of the Screw.
Ghost Stories stars Andy Nyman, Martin Freeman, Alex Lawther, Paul Whitehouse and Kobna Holdbrook-Smith. Here is the official synopsis::
Phillip Goodman, professor of psychology, arch-skeptic, the one-man 'belief buster' – has his rationality tested to the hilt when he receives a letter apparently from beyond the grave. His mentor Charles Cameron, the 'original' TV parapsychologist went missing fifteen years before, presumed dead and yet now he writes to Goodman saying that the pair must meet. Cameron, it seems, is still very much alive. And he needs Goodman to find a rational explanation for three stories that have shaken Cameron to his core. As Goodman investigates, he meets three haunted people, each with a tale more frightening, uncanny and inexplicable than the last.
Ghost Stories is set to hit theaters on April 13, 2018 in the U.K., and sometime in 2018 in the U.S.