'The X-Files' Is Actually, Truly Ending For Real This Time [TCA 2018]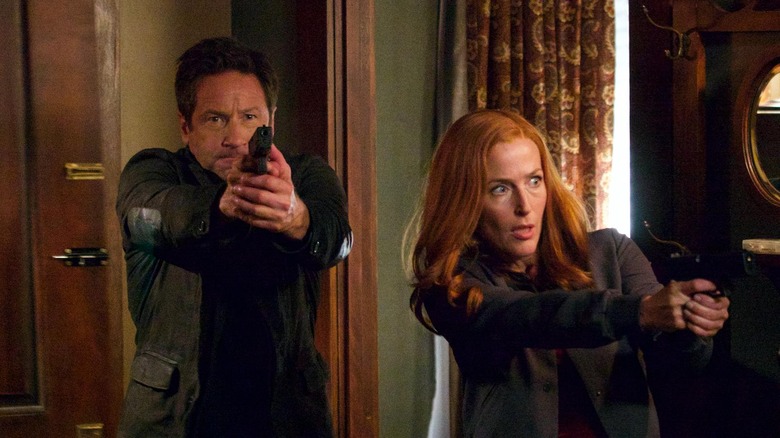 Anyone hoping Gillian Anderson's comments about retiring Dana Scully were taken out of context... Sorry. She really means it and she confirmed it at a Television Critics Association press conference for the new season of the recently revived The X-Files. She wouldn't even entertain suggestions that maybe in 10 years, she'll be ready to play Scully again.
"No, this is it for me," Anderson said. "I'm really serious. I have so much respect for these guys and I have respect for Scully and I have respect for David [Duchovny] and it's really sad, but I'm finished and that's the end of that."
Granted, this came after the third question on the subject. Anderson had already made it clear that she gave this a lot of thought.
"I arrived at the decision before we did the previous six [episodes]," she said. "But I was really curious. I thought that the previous six was going to be it. It was dipping our toe back in again and just meeting up again and making the most of it and getting to play these wonderful characters again. I think as Chris has said himself that that short stack of episodes kind of felt like we were learning how to walk again, and that 10 feels like the pace is up and we're running. But before we did these 10, I did think that that was going to be it. Why? There's lots of things that I want to do in my life and my career. It's been an extraordinary opportunity, an extraordinary character. I am hugely grateful, but there's lots of other stuff I want to do and I don't really want to be tied down to months and months of doing any particular one thing that I feel like I've done. That's why."
David Duchovny, on the other hand, isn't so sure.
"I've tried to say goodbye to Fox Mulder many times, and I've failed," he said. "They did a show without me, so how do you like that? I'm good either way. I'm good with this being the end. I'm good with it not being the end."
At the summer TCA press tour, Fox execs Gary Newman and Dana Walden said there would only be two mythology episodes in the current season. Writer/producer Darin Morgan confirmed this, but suggested the mythology would leak into other episodes as well.
"Jim Wong's on show five [and that] had some stuff because it had some stuff about William," Morgan said. "Even the one tonight has some of Barbara Hershey's character, who shows up again. So two and a half."
Since the season/series finale is also a mythology episode, does that mean the season premiere, "My Struggle III" wasn't? And does backstory on a major X-Files character not count as mythology?
"Episode six, [which] Gabe Rotter wrote, is all the backstory of Skinner," Morgan said. "It's been a long time, we've been waiting to hear that."
The X-Files airs Wednesdays on Fox.