'My Beautiful Laundrette' TV Series In The Works With Kumail Nanjiani As Star And Co-Writer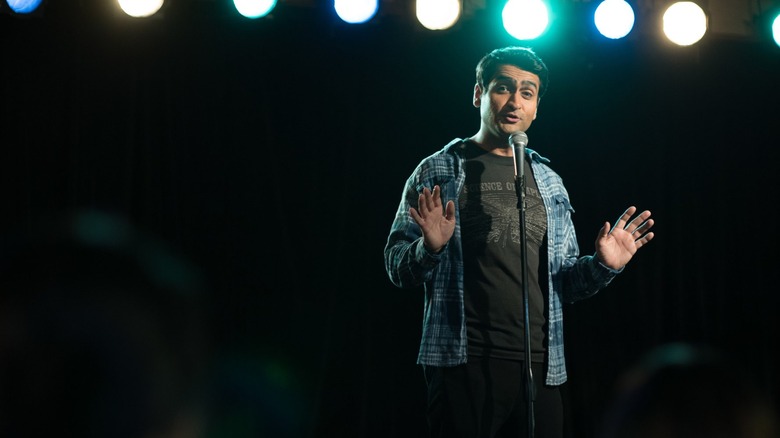 Lots of eyes are on Kumail Nanjiani now after the success of his autobiographical comedy, The Big Sick. While the comedian is still plugging away on the HBO comedy that provided his breakout role, Silicon Valley, Nanjiani is starting to flex his acting and writing chops outside of his comfort zone.
Nanjiani will star in the TV remake of My Beautiful Laundrette, the 1985 British comedy-drama about a British-Pakistani man (Gordon Warnecke) who opens a laundromat in London with his white punk boyfriend (Daniel Day-Lewis).
Nanjiani is attached to star in and co-write the adaptation of the My Beautiful Laundrette TV series, according to Variety. Traffic screenwriter Stephen Gaghan is executive producing with Super Deluxe, a production company that until now was mostly known for making eccentric Internet viral videos. No distribution deal has been set for the series.
The original film, directed by Stephen Frears and written by Hanif Kureishi, followed a young British-Pakistani man as he attempts to navigate life in South London in a racially charged time. My Beautiful Laundrette was praised for its humorous and nuanced treatment of the tensions between London's Pakistani and English communities, and was named the 50th greatest British film of the 20th century by the British Film Institute.
It's astonishing that this film is over 30 years old, as its premise remains sharply relevant today. While the setting will obviously be changed (unless Nanjiani is hiding a killer British accent), the TV series couldn't be more timely, tapping into issues of racism, the immigrant experience, and LGBTQ issues. Nanjiani is obviously very familiar with the first two elements, having heavily addressed them (with a light touch and a joke, of course) in The Big Sick, which he co-wrote with his wife Emily V. Gordon.
Here is the synopsis for the 1985 My Beautiful Laundrette film:
In a seedy corner of London, Omar (Gordon Warnecke), a young Pakistani, is given a run-down laundromat by his uncle (Saeed Jaffrey), who hopes to turn it into a successful business. Soon after, Omar is attacked by a group of racist punks, but defuses the situation when he realizes their leader is his former lover, Johnny (Daniel Day-Lewis). The men resume their relationship and rehabilitate the laundromat together, but various social forces threaten to compromise their success.
Original My Beautiful Laundrette screenwriter Kureishi will also executive produce, along with Silicon Valley producer Alec Berg. Laundrette is one of the first TV projects for Super Deluxe, which just announced the sale of its supernatural drama Chambers to Netflix.