Trailer Round-Up: 'Samson', 'Barry', 'Victory Crowley', 'Pity', 'May It Last', 'The Female Brain'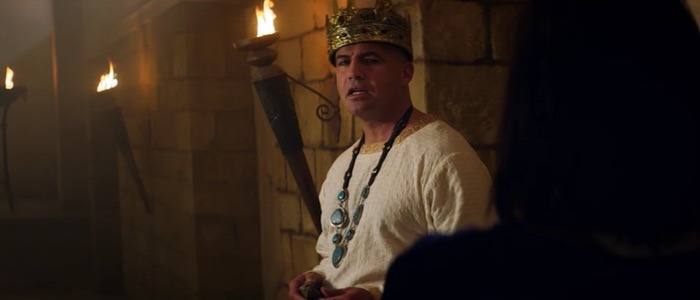 We cover so much stuff here at /Film, but sometimes a trailer slips through the cracks. That's where a trailer round-up comes in handy! This latest trailer roundup features the biblical epic Samson, the new HBO series Barry, the horror sequel/reboot Victory Crowley, the Sundance film Pity, May It Last, a documentary about the Avett Brothers, and the comedy The Female Brain.
Samson
The faith-based film company Pure Flix are trying to get into the epic blockbuster game with Samson, an action-movie-tinged take on the tale of Samson and Delilah. It looks...wild. There's a part in this trailer where someone moans, "Samson, the Philistines are upon you!" and also a part where Billy Zane shows up wearing a crown he got at Burger King. I kind of want to see this? The film stars Billy Zane, Rutger Hauer and Jackson Rathbone and will be released on February 16, 2018. Here's the synopsis:
SAMSON, empowered by God with supernatural strength, endangers his destiny with impulsive decisions that lead to betrayal by a wicked prince and a beautiful temptress. When Samson calls on his God once more, he turns imprisonment and blindness into final victory.
Barry
Bill Hader has a killer job in Barry: he's a hitman. The new HBO series follows Hader's depressed hitman as he moves to Los Angeles and falls into an acting class. HBO needs some new blood as far as their original shows go, and Barry might deliver. Hader is talented enough, and the show has surrounded him with a cast that includes Stephen Root, Sarah Goldberg, Glenn Fleshler, Anthony Carrigan, and the Fonz himself, Henry Winkler. Barry debuts March 25, 2018 on HBO. Here's the synopsis:
Barry centers on ex-Marine Barry who works as a low-rent hitman in the Midwest. Lonely and dissatisfied in his life, he begrudgingly travels to Los Angeles to kill someone and ends up finding an accepting community in a group of eager hopefuls within the LA theater scene.
Victory Crowley
The Hatchet horror series gets a reboot/sequel with Victory Crowley, and there's a trailer to prove it. I'm a horror fan, but I'll confess I've never seen any entries in the Hatchet series, and based on this trailer, I don't know if I'll start. The footage here seems more focused on jokes than scares, and perhaps that's the main thrust of this series; if so, it's not for me. Victor Crowley hits VOD/DVD February 6, 2018. Here's the synopsis.
Ten years ago, forty-nine people were brutally torn to pieces in Louisiana's Honey Island Swamp. Over the past decade, lone survivor Andrew Yong's claims that local legend Victor Crowley was responsible for the horrific massacre have been met with great controversy, but when a twist of fate puts him back at the scene of the tragedy, Crowley is mistakenly resurrected and Yong must face the bloodthirsty ghost from his past.
Pity
Pity is making its debut later this month at Sundance, and a trailer has arrived to herald this. IndieWire debuted the exclusive trailer first, and tell us the film is about " a nameless everyman, played by comedian Yannis Drakopoulos, who revels in unhappiness, lives for being sad, and relishes being, well, pitied. His life is made all the better — worse? — when his wife falls into a coma, a terrible situation that comes complete with plenty of sadness and whole heaps of pity. It's kind of ideal. But can it possibly last?"
May It Last
Musicians The Avett Brothers, fans of sad jams and facial hair, now have their own documentary. May It Last: A Portrait of the Avett Brothers is described as "an intimate documentary following acclaimed North Carolina band the Avett Brothers, as they create their 2016 hit album 'True Sadness.'" The documentary was filmed with extensive access over more than two years, and will debut on HBO on January 29, 2018.
The Female Brain
Whitney Cummings writes, directs and stars in The Female Brain, a comedy about a neuroscientist who is researching the mysteries of the female mind. There's a lot going on in this trailer, but the thing that got the biggest laugh from me is when James Marsden shows up and says, "How does it feel to be dating a magician?" Dude's got good comic timing – put him in more comedies. The Female Brain stars Whitney Cummings, Sofia Vergara, James Marsden, Cecily Strong, Blake Griffin, Beanie Feldstein, Lucy Punch, Toby Kebbell, and Deon Cole. Look for it on VOD on February 9, 2018. Here's the synopsis:
What makes a woman swipe right for Mr. Wrong and left for Mr. Right? This simultaneously entertaining and enlightening comedy is a fresh, witty, and all-too-relatable look at the real-life science behind our (often regrettable) romantic impulses. Writer-director Whitney Cummings (2 Broke Girls) stars as no-nonsense neuroscientist Julia, whose research into the biochemistry of the female brain is illustrated by three couples: newlyweds Zoe (Cecily Strong) and Greg (Blake Griffin), whose career troubles seep into their relationship; Lisa (Sofia Vergara) and Steven (Deon Cole), who are looking to spice up their stuck-in-a-rut marriage; and Lexi (Lucy Punch) who can't help trying to change her boyfriend Adam (James Marsden). Meanwhile, the straight-laced Julia's own synapses start to fire when a handsome new subject (Toby Kebbell) joins her study...