'The Vanishing Of Sidney Hall' Trailer Cracks A Literary Mystery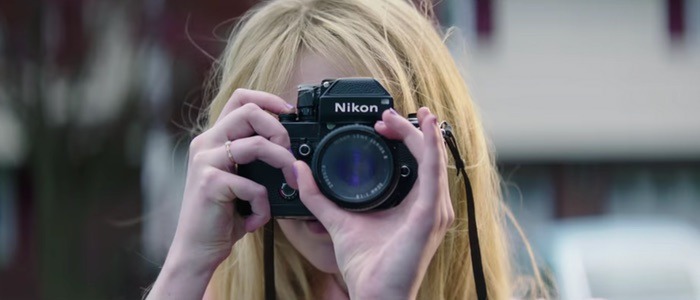 Kyle Chandler is on the hunt for a missing writer in the intriguing The Vanishing of Sidney Hall trailer. Shawn Christensen helms this new drama from indie super-studio A24, about a wildly popular writer who vanishes off the face of the earth. Or does he?
A24 can't stop, won't stop – 2018 is barely 10 days old, and they're already out here dropping trailers for brand new films. Their latest, The Vanishing of Sidney Hall, focuses on a controversial writer who finds overnight success, and then vanishes without a trace. Mystery, suspicion, and a lot of fires follow. Watch the first The Vanishing of Sidney Hall trailer below.
The Vanishing of Sidney Hall Trailer 
The Vanishing of Sidney Hall stars Logan Lerman, Elle Fanning, Michelle Monaghan, Kyle Chandler, and Nathan Lane, and, for the most part, looks promising. There seems to be a huge twist buried somewhere in the narrative that this trailer is working overtime to dance around. There's also a scene where Sidney Hall sets a typewriter on his desk on fire, and honestly, Sidney, that's a bit much. I also can't really get a read on Kyle Chandler's character; he seems like an okay guy at the start of the trailer, but by the end he's coming across as a bit of a creep. What's your deal here, Coach Taylor?The Vanishing of Sidney Hall comes from filmmaker Shawn Christensen, who directed the 2014 film Before I Disappear. Christensen co-wrote the film with Jason Dolan. This film actually premiered at last year's Sundance Film Festival under the title Sidney Hall, and received some not-very-kind reviews. IndieWire wrote, "Unspools into nearly two hours of baffling narrative choices, weak character development, and so many offensive cliches that it would be funny if they wasn't so, well, offensive." Well, that sounds...not great. As always, though, I urge you to make up your own mind; give the film a shot, it might surprise you. Or it might not! What the hell do I know!?
Here's the official Vanishing of Sidney Hall synopsis.
After publishing a bestselling novel based on the death of one of his high school classmates, the controversial writer Sidney Hall (Logan Lerman) finds himself catapulted to unexpected fame and renown. His relationship with his girlfriend (Elle Fanning) begins to fall apart as the dark consequences of the book intrude on their life together, and he disappears without a trace. Nearly a decade later, an enigmatic detective searches for the missing author, whose books are connected to a string of mysterious arsons.
The Vanishing of Sidney Hall debuts exclusively on Direct TV on January 25, 2018 before opening in theaters on March 2, 2018.