'Green Lantern Corps' Movie Is "Still In The Works," But Even Writer David S. Goyer Doesn't Know When We'll Hear More About It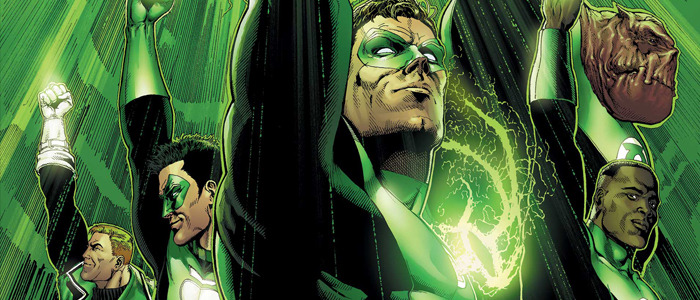 A year ago, we learned that Batman Begins and Man of Steel screenwriter David S. Goyer was hired to write the script for DC and Warner Bros.' Green Lantern Corps movie alongside writer Justin Rhodes. Not long after, there were whispers that Goyer might end up directing the movie as well, but that rumor remains unconfirmed and the movie is still currently without a director.
Since then, we haven't heard any concrete updates about the project. But that's changed today, since an outlet caught up with Goyer yesterday and got him to confirm that the movie is "still in the works." But it's what he said next that paints a more interesting picture.
Goyer was at the Television Critics Association winter press tour to promote his new series Krypton, and IGN asked him about the status of the new Green Lantern film. After the scribe confirmed that it's still in development, IGN asked when fans can expect an update on the movie, and Goyer responded:
"I don't know. Who knows, especially with what's currently going on with the DC universe? There's obviously a whole recalibration happening with that right now."
That "recalibration" involves producer Jon Berg stepping away from the DC films to produce other projects at the studio in the wake of Justice League's underwhelming box office performance. Walter Hamada, a WB executive who guided films like The Conjuring and It to their success, was recently appointed the new president of DC Films.
From the outside looking in, it seems that Goyer, who is largely responsible for launching the current DCEU since he wrote both Man of Steel and Batman v Superman: Dawn of Justice, would be more in the loop than he appears to be from that quote. Remember – he's not only writing Green Lantern Corps, he's producing it, too. There's a huge difference in those jobs, and I'd assume a producer would have a better grasp of the timeline for a project to which he's attached. Then again, I suppose he's been busy working on Krypton, and since Green Lantern Corps doesn't even have a production start date yet, it's not that much of a stretch to believe that he may actually be in the dark about the studio's plans for the movie. With all of the shake-ups going on at DC and Warner Bros. (the latter of which just metaphorically put a bunch of their execs in a dice cup, shook them up, and rolled them out onto the lot in Burbank), the DC cinematic universe's future seems more uncertain than ever.
As you probably recall, Warner Bros. crashed and burned in their first attempt to bring a live-action Green Lantern to the big screen back in 2011, when their Ryan Reynolds-led film pulled in just $220 million worldwide on a estimated $200 million budget. The character has been put on ice ever since, though we did briefly see a Green Lantern or two fighting in the huge battle flashback sequence in last year's Justice League.
Green Lantern Corps has been described as "Lethal Weapon in space," and is supposed to feature not only Hal Jordan (the version of the character Reynolds played in 2011), but John Stewart, a black man who has taken on the mantle in the comics and on the small screen. Fast and Furious actor Tyrese Gibson has been desperately begging to be cast in that role for years, but not long ago, our own Hoai-Tran Bui made the case for why American Gods star Ricky Whittle should don the ring and utter the oath.