'Black Panther' Advance Tickets Sold More Than Any Marvel Cinematic Universe Movie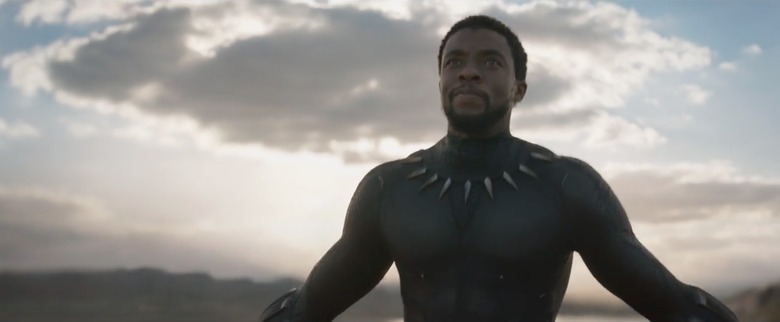 All hail the king of advance ticket sales.
Black Panther is proving to be more than just a comic book movie, but a bonafide cultural event. Advance tickets for Ryan Coogler's superhero movie starring Chadwick Boseman as the titular hero went on sale on Monday after a buzzy new TV spot aired during the telecast of the College Football Playoff National Championship. And already, Black Panther has outsold all previous Marvel Cinematic Universe advance ticket sales.
Black Panther set records this morning, selling more advance tickets in its first 24 hours than any previous Marvel Studios movie, edging out Captain America: Civil War for the crown. Fandango managing editor Erik Davis announced the record-setting sales on Twitter.
Big news this morning – #BlackPanther sold more advance tickets on @Fandango in its first 24 hours than any other MCU movie, besting previous record holder Captain America: Civil War. Long live the King! pic.twitter.com/JL1c28AgWm

— Erik Davis (@ErikDavis) January 10, 2018
What does this mean for the box office tracking for Black Panther? Well, Captain America: Civil War opened to $179 million in 2016, which could make that a good ballpark for Black Panther's opening weekend estimates. However, Civil War hit theaters in May while Black Panther gets an early start to the summer movie season in February — though it does fall neatly on the four-day President's Day holiday. It's not unheard of for superhero movies to become runaway hits at this time of the year: Fox's R-rated Deadpool set records as the highest-opening February movie with $132.4 million.
Black Panther benefits from not being restricted by an R-rating, and having an even more promising built-in audience than any previous Marvel movies. In addition to drawing in the regular Marvel audience, black audiences are gearing up to launch Black Panther to new heights — just look to the box office success of African-American-led movies like Get Out and Girls Trip.
But I may be getting ahead of myself. There's no solid correlation between presale tickets and weekend box office numbers, even if they do act as a nice litmus test for audience enthusiasm. According to Deadline, non-Disney estimates believe Black Panther will open to $80-$85 million, with a possible shot at $100 million-plus. However, it should be noted that a Fandango survey of more than 8,000 users ranked Black Panther as one of the year's top two most anticipated movies, falling second to Avengers: Infinity War.
Here is the official synopsis for Black Panther:
Black Panther (Chadwick Boseman) springs into action when an old enemy threatens the fate of his nation and the world.
Black Panther hits theaters on February 16, 2018.