Mark Wahlberg Was Paid Well For 'All The Money' Reshoots While Michelle Williams Was Shortchanged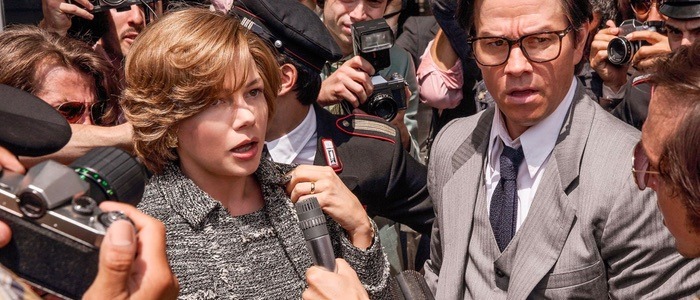 Ridley Scott recently made headlines when he decided to reshoot Kevin Spacey's scenes in All The Money In The World with Christopher Plummer – a decision that required co-stars Mark Wahlberg and Michelle Williams to come back for said reshoots. Reports now indicate that while Wahlberg received a hefty sum of money to film his reshoots, Williams was paid millions of dollars less.
How about another story about how disappointing everything is? The biggest story about Ridley Scott's All The Money In The World centered around Scott's unprecedented decision to quickly reshoot all of Kevin Spacey's scenes with Christopher Plummer after sexual assault allegations against Spacey broke. Defying the odds, Scott was able to finish the reshoots in approximately 9 or 10 days and deliver the film to theaters on schedule. But there's a bit more to the reshoots story: it seems that the reshoots enabled co-star Mark Wahlberg to make some serious bank, while co-star Michelle Williams received significantly less of a payday.
The Washington Post broke the news that Williams would be getting "a fraction of Mark Wahlberg's $2 million payday." While Scott told USA Today that "Everyone did [the reshoots] for nothing. They all came in for free," the WaPo story reports otherwise:
As the cast was called in for the reshoots — including Michelle Williams as the kidnapped boy's mother — the performers agreed to be paid more modestly for their work, in what the person said was a figure in the hundreds of thousands of dollars or less for Williams, Plummer and other actors. But Wahlberg insisted on, and received, a much higher sum for the 10 days of shooting.
On Twitter, actress Jessica Chastain recently claimed that Williams made only about $80 a day compared to Wahlberg's hefty price tag:
I heard for the reshoot she got $80 a day compared to his MILLIONS. Would anyone like to clarify? I really hope that with everything coming to light, she was paid fairly. She's a brilliant actress and is wonderful in the film. https://t.co/VzGA2ucAjV

— Jessica Chastain (@jes_chastain) January 9, 2018


USA Today confirmed the pay gap this week, revealing that Wahlberg got $1.5M while Williams was paid an $80 per diem totaling $1,000. Wahlberg's team reportedly negotiated the hefty fee without Williams' knowledge. And here's the interesting kicker: Wahlberg and Williams are both represented by the same agency: William Morris Endeavor. One could argue that Wahlberg had every right to hold out for more money – no one wants to work for free, after all. But one should then argue that whatever Wahlberg received, Williams should've received in turn, especially since Williams' part is much bigger in the film. It's also worth noting that Christopher Plummer was paid a small sum as well. The bottom line here is Mark Wahlberg got a pretty nice paycheck for 10 days of work, while everyone else came away with a lot less. Williams, Plummer and the crew were willing to work for scale to help the film in a time of need. Mark Wahlberg, however, wanted all the money in the world. Or...at least nearly $2 million.
According to the New York Times, the reshoots cost around $10 million, raising the total of the All The Money In The World production budget to more than $50 million. Producers were likely more than happy to shortchange Williams in order to keep the already ballooning price tag down. That doesn't make this story any less unfortunate, however.