'Star Wars: The Last Jedi' Images Released For Awards Season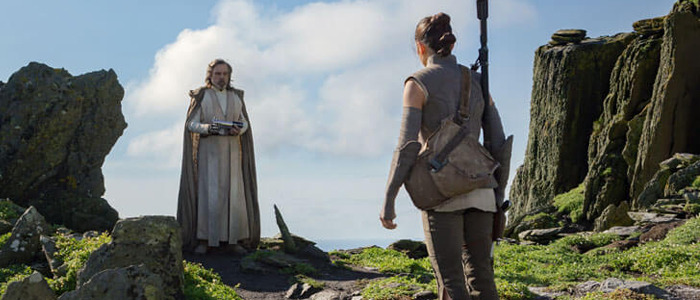 With the Golden Globes now behind us, we're now well into awards season and there's one more huge show on the horizon: the Academy Awards. And since Oscar voters are casting their votes this week to determine the nominations in each category, Disney has updated its For Your Consideration page with a batch of new images from Star Wars: The Last Jedi in the hopes that they'll remind voters to include the latest adventure in a galaxy far, far away on their ballots. Check out a gallery of all the newly-released photos below.
Here are the brand new Star Wars images, straight from Disney's For Your Consideration awards site (via ComicBookMovie).
Star Wars The Last Jedi images
There's Luke and Rey standing face to face on Ahch-To, looking much more dry and brightly lit than they do throughout the rainy and largely dark sequences that take place there throughout the film. There's Hux, looking deathly serious (as per usual) and possibly thinking about just how hard Poe Dameron owned him. There's Vice Admiral Holdo with a face that says, "The reason I didn't tell Poe the plan is because I, a senior member of the Resistance military, do not owe that hotshot mansplainer a damn thing."
There's Kylo Ren, genuflecting before Supreme Leader Snoke before he decided, "You know what? I think I could probably be a pretty good Supreme Leader myself." There's Kylo and Rey, fighting back to back in Snoke's throne room after ripping the big bad in half. (You can read all about that in our extensive oral history of that entire scene.) And it's sad to think about, but this may be the last official image of Carrie Fisher as General Leia Organa that we ever see. Actually, it may be the last official image of Carrie Fisher as any character, period, that we ever see. Which is even sadder.
Also, there's a new Captain Phasma photo in there too, but since the movies clearly don't care very much about that character (sorry, Gwendoline Christie), it's only fitting to barely mention her here before wrapping this article up.
Star Wars: The Last Jedi is in theaters now, and since it's the highest-grossing movie of last year, the film a major part of the reason that female-led movies topped the box office in 2017 for the first time in nearly 60 years.