'Blockers' Trailer: Parental Advisory Is Not Recommended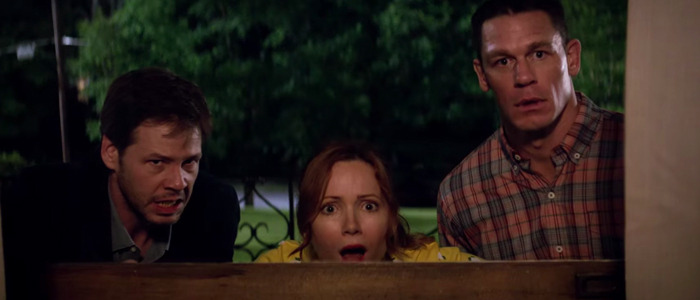 I like Ike Barinholtz, Leslie Mann, and John Cena. I think they're all underrated, talented performers, and ever since seeing Barinholtz work his magic as a charmingly weird supporting character in The Mindy Project, I've been pulling for him to lock down some more starring roles in big studio comedies. But after watching this new trailer for Universal's new movie Blockers, in which the three actors play parents who team up to sabotage their daughters' pact to lose their virginity on prom night, I feel like Switch from The Matrix: "Not like this...not like this."
Blockers trailer
Looks like this movie continues the trend of major studio comedies constantly trying to top each other when it comes to its gross-out humor; this one contains a scene in which John Cena "chugs a 40 with his a**hole" during a party, only to fart it into Barinholtz's face when the police arrive. Stay classy, Blockers. (Side note: why the hell wouldn't Cena's wife stop him before he put his daughter's underwear in his mouth? WTF.)
Surprisingly, the film isn't directed by gross-out champs like the Farrelly Brothers or Todd Phillips, but instead marks the directorial debut of Kay Cannon, the writer of the Pitch Perfect trilogy and a writer/producer of NBC's 30 Rock. But while Cannon's writing work has often been either relatable, hilarious, or clever, Blockers doesn't look like it registers on any of those metrics. Maybe that's because she didn't write this one – five men did (Brian and Jim Kehoe, Jon Hurwitz and Hayden Schlossberg, and Eben Russell).
I'll give them this: comedies are difficult to market, because you don't want to put the best jokes in the trailers. If that's the case here, I hope there's something the marketing team is holding back that will make this movie worth seeing, because I do think these actors have earned the chance to be front and center in more comedies in the future.
When three parents stumble upon their daughters' pact to lose their virginity at prom, they launch a covert one-night operation to stop the teens from sealing the deal. Leslie Mann (The Other Woman, This Is 40), Ike Barinholtz (Neighbors, Suicide Squad) and John Cena (Trainwreck, Sisters) star in Blockers, the directorial debut of Kay Cannon (writer of the Pitch Perfect series). The comedy is produced by Seth Rogen, Evan Goldberg and James Weaver, under their Point Grey Pictures banner (Neighbors, This Is the End), alongside Jon Hurwitz & Hayden Schlossberg (Harold & Kumar series) and DMG Entertainment's Chris Fenton (47 Ronin). Good Universe's Nathan Kahane and Joseph Drake (Don't Breathe, Juno) executive produce with Chris Cowles (Collide) of DMG and Josh Fagen, Dave Stassen and Jonathan McCoy.
Blockers arrives in theaters on April 6, 2018.