Showtime Hasn't Asked David Lynch For Another Season Of Twin Peaks, But There's Still Hope [TCA 2018]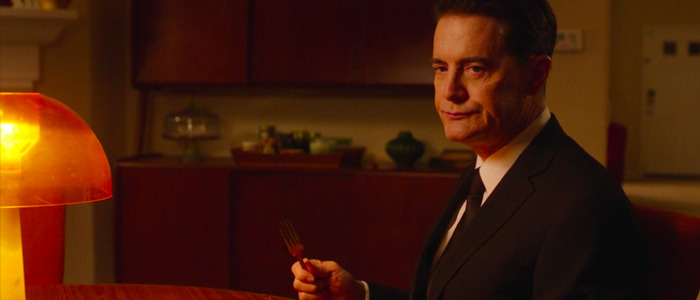 Showtime President David Nevins spoke with the Television Critics Association this weekend and inevitably he was pressed for Twin Peaks news by the reporters in attendance. Unfortunately, Nevins said he has not asked David Lynch about another season at all. But that doesn't mean it won't happen. The Showtime boss certainly hasn't give up on the prospect of more Twin Peaks.
Find out what Showtime had to say about the possibility of Twin Peaks season 4 below.
"We haven't [asked Lynch yet]," Nevins said. "We've only had conversations about the previous season. I have not done it yet. I know better. He's not a guy who's going to be swayed by salesmanship."
While it may be a while before we see a fourth season of Twin Peaks on Showtime, fans can continue to experience Twin Peaks in other ways. There is currently a pop-up restaurant modeled after the show's Double R Diner in Los Angeles. Nevins is interested in continuing the Twin Peaks experience this way.
"There's enormous promotional interest," Nevins said. "There's enormous consumer product interest, so yes. More than most of our shows, Twin Peaks has a consumer products angle that we're not used to seeing. I don't know if anyone's been to the place on Melrose, the Road House. There's constant interest in Twin Peaks and that's one of the things we do talk to David about. I want him to have total control over every exploitation of the show."
During the panel, Showtime's President of Programming Gary Levine elaborated on the waiting game the network will play with Lynch and co-creator Mark Frost.
"We're thrilled with Twin Peaks," Levine said. "The work was extraordinary, the fan reaction was extraordinary and it was incredibly good for our brand. Remember it took 25 years for Mark and David to go from 1.0 to 2.0. Add to that, what David did in the last few years was nothing short of Herculean. To direct 18 episodes of television belongs in the Guinness book, and wrote, and starred and edited and composed. It's a Herculean task and he did it so beautifully, I don't know how soon he wants to do it. The door at Showtime is always open to Mark and David for Twin Peaks or anything else they want to talk about."
If there are any updates on Twin Peaks season 4, we'll be sure to let you know.