'Star Trek: Discovery' Season 2 Is About Science Vs. Faith [TCA 2018]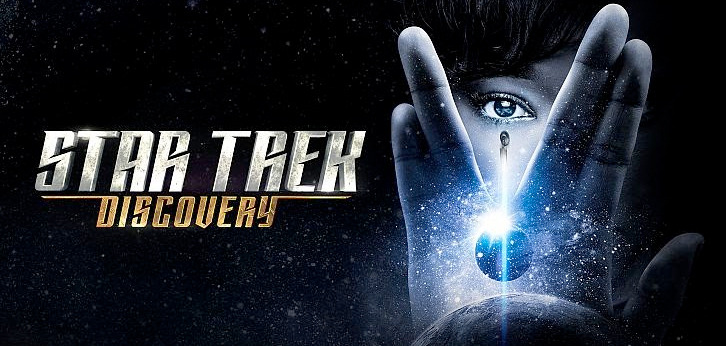 During the Television Critics Association presentations this weekend, Star Trek: Discovery producer Gretchen Berg and Aaron Harberts were on a CBS panel about politics and social issues on television. After the panel, they spoke with reporters more specifically about the future of Star Trek: Discovery, including the theme for the show's forthcoming second season.
Find out everything we learned about Star Trek Discovery season 2 below.
"We are very interested in tackling themes of faith next year, science vs. faith," Harberts said. "We're interested in different points of view on that and we're still hashing out what we want to tell. The second season is not a war season. We're in this interesting pocket of time, 10 years, now nine years before TOS. There are a lot of things in terms of TOS canon that we want to do some nods to and we're still figuring it out. This next season is going to be jam packed with stuff that we wanted to do [the first season]."
The writing staff got back to work in December, and they're currently three episodes in development with the outline of a season premiere out to producers. That's much more solid footing than getting the first season launched, when Bryan Fuller departed the show.
"We have time this year, so we have time to do things like more away missions, newer planets, stories that might fall a little bit more into a framework of allegory that people love to get from Trek," Harberts continued. "But we will always continue to have that overarching serialized thread."
The remaining episodes of season one have many pivotal developments ahead too, for the characters and the Federation as a whole.
"Redemption is a huge theme," Harberts said. "The other thing that's a huge theme for us is taking the Federation from the darkness into the light. One of the things we do hear about is everybody wants this optimistic version of Star Trek right out of the gate. I feel that our show has a lot of hope in it from episode to episode on the character storyline that we're tracking. By season's end, people will see the Federation that they've come to know and love from [the original series] on."
Season one remains a war story, so tonight's episode marks a major event for the war.
"[Tonight] we're introducing a huge new development," Harberts said. "It'll be fun for Trek fans. It's a nice nod to some stuff from TOS but what happens [tonight] firmly anchors the back half of the season. The back half of our season is definitely, again, a war story and how the war is going to play out, but our characters find themselves in a place where their very identities are challenged. It's an emotionally wrought back half of the season."
At the center of it remains Michael Burnham (Sonequa Martin-Green), who is seeking redemption.
"I think it's pretty much considering the discovery of oneself and the discovery of Michael Burnham, figuring out her path to redemption," Berg said. "She started at such a low place and had a big hole to climb out of emotionally and spiritually as far as where she feels she fits in the world. We're getting her back to a place emotionally where we saw her at the beginning but a deeper, more informed knowledge of herself."
This episode is Jonathan Frakes' behind the camera.
"Jonathan Frakes directed episode 10 which we're starting back with tomorrow," Berg said. "It is bang out of the circus cannon in a good way. It is so fun, it is emotional, there are highs and there are lows. Every one after that I'm really happy with it."
Having another Trek veteran on the crew reinvigorating the rest of the season, Harberts said. They want him back to direct more episodes in season two.
"There is a point in the middle of the season where everyone is dragging," Harberts said. "He came in at just the right moment and electrified the room. When he left it was a triumph for him. People's spirits were just through the roof. For the cast, there's really no one else except for Roxann Dawson who can give our cast insights into what the future holds for them as members of an iconic franchise. Jonathan was also able to anecdotally tell them about his life as Riker after the show. I think they really appreciated that too. Jonathan Frakes is an A+."
The producers also responded to criticisms Star Trek: Discovery received this season. Fans were disappointed to see Michelle Yeoh's character, Captain Philppa Georgiou killed, since she represented diverse casting on the bridge of a Starship.
"I would say that relationship is such a core relationship for the entire spine," Berg said. "Our goal is always to keep Captain Georgiou alive on the show. All I can say is the joy is in the journey. Keep watching because Captain Georgiou is such a huge part of the heart of Michelle Burnham. If that's something you're invested in, then I'd say keep watching because I think you hopefully will enjoy what we're going to do."
Episode 10 could offer some comfort to Georgiou's mourners.
"Once you watch tomorrow's episode, you'll see the context that we're playing in," Harberts said. "Another theme for the back half is second chances. As people are consuming the back half, keep that in mind."
They also responded to criticism that Discovery has too much Klingon. The second half may feature less Klingon dialogue subtitled in English.
"In the back half, the audience will see fewer subtitles," Harberts said. "There'll be a little less reading involved but yes, we had to stick to that decision for this first chapter."
Berg stands by the decision to feature Klingons speaking in their native tongue.
"There are a lot of different opinions on it," she said. "I think because of the story that we were telling about the Klingons and how they wanted to make sure they kept their race pure, from th storytelling point of view it made sense to us that when we cut to them, if what they wanted to do was remain Klingon and stay Klingon and keep away from everybody else, we couldn't have them speaking English. We had to hear their language too. We still stand behind that decision but I know some people didn't like it. I think it makes the best sense for story."
Star Trek: Discovery returns to CBS All Access today, January 7, after a hiatus, but the producers do not yet know if season two will be split in half as well.
"It's too far in the future for us to even know," Berg said. "We're just starting again in season two."