Hulk Has A Beard In 'Thor: Ragnarok' Concept Art, Nothing Will Ever Be The Same Again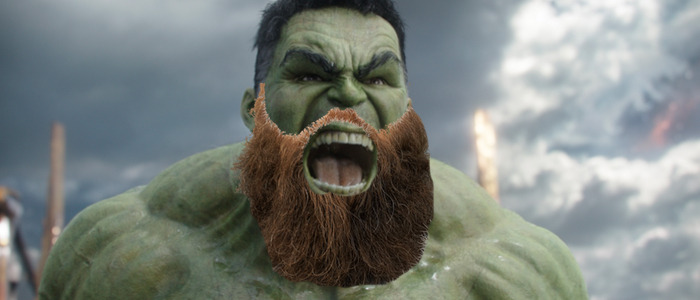 Folks, this might be the most explosive story I've ever written for this site. Once you read it, you will never be the same. According to some early concept art for Thor: Ragnarok, the Hulk almost had a beard. That's right – the Incredible Hulk almost blessed us with some finely-groomed facial hair. And that's not all: he had long hair, too. Could you even handle such a thing on the big screen? I don't think you could. Behold the Thor Ragnarok concept art below.
Stop what you're doing, lock all the doors, turn on all the lights, boil some water, and get ready to have your mind blown. We were this close to having Hulk in Thor: Ragnarok be adorned with facial hair, but alas, director Taika Waititi realized that such a decision would cause mass hysteria in theaters everywhere. For now, we'll have to make due with this early concept art, depicting the big green guy with a big ole beard.
Here are some alternate hairstyles I painted for #Hulk #thorragnarok #hulksbarber pic.twitter.com/mdOB0sgHd2

— Ryan Meinerding (@MeinerdingArt) January 4, 2018
The concept art comes courtesy of Ryan Meinerding, Character Designer, Concept Artist and Marvel Studios Head of Visual Development. There are actually several different Hulk looks here, including one with shaggy hair, one with a bit of a buzzcut closer to the version that ended up in the final film, and one where Hulk has a mohawk. And of course, there's the infamous beard/long haired photo, which makes Hulk look like a big, green Jesus.
How shook are you right now? Be honest – very shook, right? Thor: Ragnarok was a lot of fun, although I seemed to enjoy it a little bit less than everyone else. That said, if the film had featured a bearded Hulk, I might've given it a much higher rating. Let this be a lesson to other Marvel directors: more beards. In fact, the internet is already going gaga over the prospect of bearded Captain America in Avengers: Infinity War. Why stop there? Put beards on everyone in the MCU. Spider-Man should have a beard on the outside of his mask! Thanos should have a beard on the Infinity Gauntlet! Hell, they should go back and CGI a beard onto Stan Lee for every single cameo he's made so far. Beards for the entire Marvel Cinematic Universe! What MCU character do you think needs a beard? Sound off in the comment section below, I promise I will read every single comment posted.
Thor: Ragnarok just recently wrapped up its successful theatrical run, which means a Blu-ray announcement will be imminent. There's still time for Taika Waititi to go back and digitally add a beard onto the Hulk scenes. It's not too late.