Watch: Jay-Z's 'Family Feud' Music Video, Directed By Ava DuVernay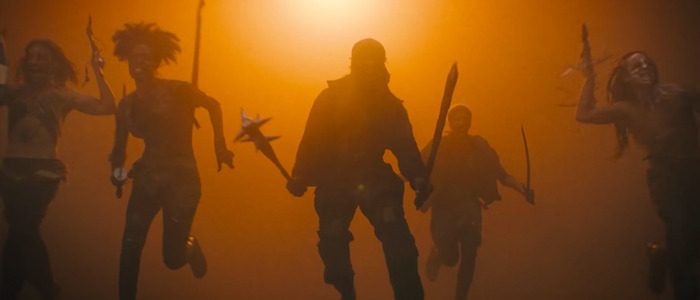 We recently wrote about Never Let Me Go director Mark Romanek's foray back into the world of music videos with his video for Justin Timberlake's new single "Filthy," but he's not alone: Selma and A Wrinkle in Time director Ava DuVernay has a new music video of her own, featuring none other than Jay-Z and Beyonce.
As you might expect from the heavyweight talent involved, "Family Feud" (from Jay-Z's recent 4:44 album) isn't just any old music video. It's a nearly eight-minute short film that spans hundreds of years and features performances from actors like Michael B. Jordan, Thandie Newton, Trevante Rhodes, Brie Larson, Rashida Jones, Constance Wu, and many more. Oh yeah, and Jay and Bey sing a song together at some point, too.
Family Feud music video
The "Family Feud" video originally debuted on Jay-Z's subscription streaming service Tidal, but now that it's made its way to YouTube, we're all able to watch it for free.
Beyonce and Jay-Z experts will have far more relevant takes than me (check out Jen Yamato's piece in The L.A. Times for a deeper dive), but from a filmmaking perspective, this is a bold and unique piece of work. There's so much to dig into, from the opening text from author James Baldwin to Thandie Newton's murderous Cleopatra-esque feminist badass in the year 2444, the political undertones of Jessica Chastain's confrontation with the nation's Co-Presidents (!), a band of yellow-hazed warriors, and a group of diverse women rewriting the Constitution.
And then there's the music itself, Jay-Z's response to Beyonce's Lemonade that openly addresses his indiscretions and shortcomings and serves as a literal confession, since it takes place in a church confessional with Beyonce decked out in priest garb. Like I said: there's a lot to unpack here. I'm sure those who closely follow the drama surrounding this family will have enough to analyze here for at least the next few weeks, while the rest of us can gawk at DuVernay's gorgeous imagery and ponder the notion of a nation that has two presidents serving together at the same time.
DuVernay tweeted a full thread about the "Family Feud" video when it first dropped on Tidal a few days ago, and you can follow that rabbit hole below if you want to hear even more from her and see some behind-the-scenes photos of the A-list actors involved: