'The Night Sitter' Trailer: A Home Invasion Movie Dripping With Style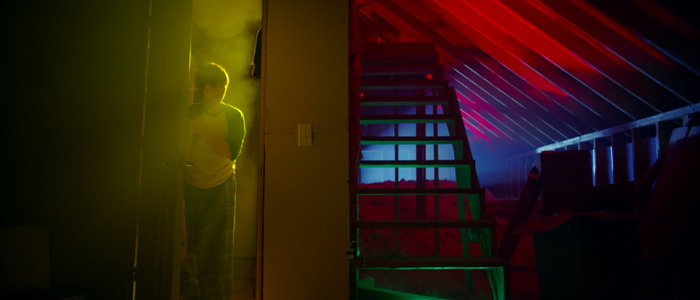 Home invasion thrillers are a dime a dozen, but rarely has there been one that's oozing with as much style as The Night Sitter. If I had to guess what Nicolas Winding Refn's eggnog-fueled Christmas dreams might look like, I imagine this would be a pretty close approximation. Check out the first trailer below.
The Night Sitter trailer
See what I mean about Refn? This neon-soaked movie is written and co-directed by Abiel Bruhn and John Rocco, who have made a handful of shorts over the past few years, including 2012's disturbing A Not So Pleasant Surprise (which contains nudity so I won't embed it here, but you can watch it on YouTube). And like A Not So Pleasant Surprise, The Night Sitter is also set at Christmastime, so these guys could be looking to become the Shane Blacks of horror in that regard.
While there are lots of cinematic homages to be felt in the short runtime of this trailer (Argento seems particularly influential for these filmmakers), it doesn't actually reveal a lot about the movie's story. Sure, we know a babysitter comes and probably isn't who she appears to be, and there's a mysterious book and some flashes of weirdness...but what actually happens in this movie? The official synopsis paints a much clearer picture:
A scheming con artist poses as innocent babysitter "Amber" to steal from Ted Hooper, a wealthy occult enthusiast with a reclusive son named Kevin. Her crew arrives to clean out the house just as Kevin stumbles upon one of his father's most prized artifacts and unwittingly summons a trio of witches known as The Three Mothers. As the playful, sadistic witches start picking people off, Amber and Kevin form an unlikely bond and try to survive the night together.
That description sounds way more interesting than what we see in the trailer itself, which, while unquestionably interesting on a visual level, feels a little plodding and dull in terms of revealing a narrative. But now that I know what the film is actually about, I'm much more curious to see the final product.
Elyse DuFour (The Walking Dead), Jack Champion (the upcoming Avatar sequels), and Jermaine Rivers (The Gifted) star. The Night Sitter is an independently-produced movie that began life as a Kickstarter project, and here's how the filmmakers describe it:
THE NIGHT SITTER is a crowd-pleaser, equally tuned to the sensibilities of casual moviegoers and the diehard genre fans that treat horror films like a religion. And the best way to please a crowd? The characters, the tone and the kills. Nail these three aspects and the end result is going to be satisfying for the audience. In short, we want to make sure you don't want any characters to die but still have a great time watching them go!
We'll see if they're successful when the film debuts sometime in 2018.