Watch: Mark Romanek Directs Dancing Robots In Justin Timberlake's 'Filthy' Music Video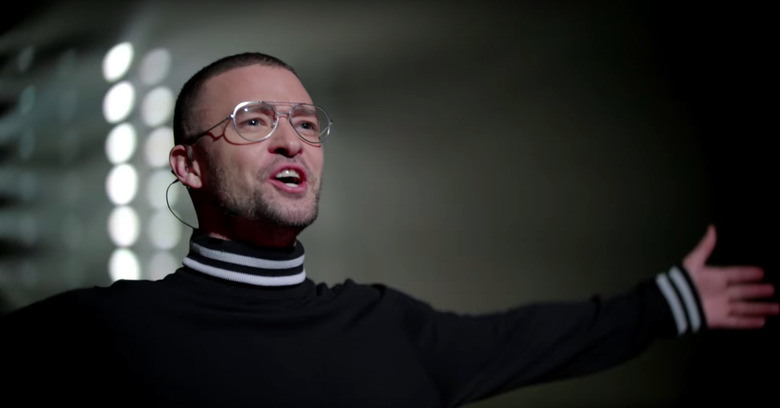 Justin Timberlake may stepped away from music to launch his acting career, but after five long years, he's bringing sexy back to pop music. But that he's also brought a bit of the movie industry back with him.Never Let Me Go director Mark Romanek has accompanied Timberlake's return to pop music, directing JT's Black Mirror-inspired music video for "Filthy." This is not their first time working together either – Romanek directed the music video for "Can't Stop This Feeling," Timberlake's one-off musical stint in the midst of his acting career to produce the theme song for Trolls. Is their second collaboration another hit? Watch the music video to find out.
Justin Timberlake Filthy Music Video
Wearing a black turtleneck and glasses à la Steve Jobs, Justin Timberlake pops and locks his way onto the stage of a near-future technology presentation — the "Pan-Asian Deep Learning Conference" in 2028, to be exact. JT's tech guru sings an introduction for his new invention before bounding off stage, his advanced robot dancing into the spotlight. Off on the sidelines, JT dances the moves that his robot mimics and perfects, shocking and awing the audience. But then things get weird: as the psychedelic synth-pop song gets to its moody bridge, the demure dress-clad dancers that previously accompanied the robot suddenly get exchanged for sexy bikini-clad dancers, writhing alongside JT's equally sexy robot. As the performance ends and the audience gives a standing ovation to the triumphant robot, Timberlake suddenly finds himself glitching. Soon, Timberlake turns into a mass of pixels, his dancing soul absorbed into his sexy robot.
The whole "Filthy" video plays like a satirical twist on Black Mirror and on Timberlake's own catalogue of sounds. It could perhaps be a thematic sequel to his breakout "FutureSex/LoveSounds" album — he even sings a reference to his biggest hit "Sexyback" ("guess I got my swagger back" he croons).
The song itself is a bit of an artificial mess, a deep bass throbbing throughout the funky song and disconcerting wub-wubbing noises that act as the beat. But the song is oddly harmonious with the video itself, as if Justin Timberlake's greatest hits were put in an echo chamber to be superficially imitated by technology. An uncanny valley version of a Justin Timberlake song, if you will.
But the music video is good fun, and part of Timberlake's frequent history of collaborating with acclaimed directors, including his Social Network director David Fincher, who helmed Timberlake's "Suit and Tie" video. And if you're curious about more of Timberlake's movie-music collaborations, you should also check out Jonathan Demme's music documentary Justin Timberlake + the Tennessee Kids, now streaming on Netflix.