'Game Over, Man!' Trailer: The Workaholics Team Up Against Terrorists In Netflix Comedy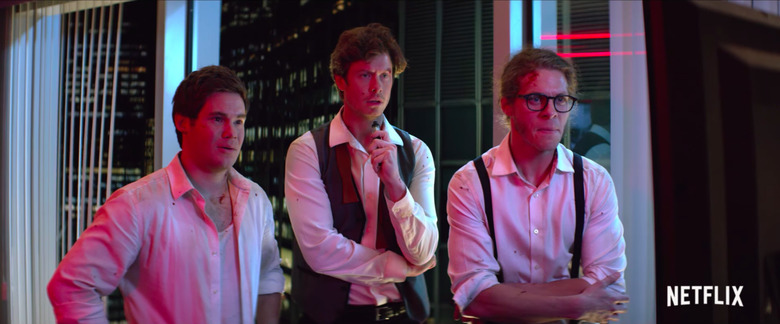 Workaholics, the quintessential Comedy Central slacker comedy that helped to launch the careers of Adam Devine, Anders Holm, and Blake Anderson, went off the air last year, but its creator-stars will grace our screens once again in a hilariously dumb Netflix action-comedy.
In Game Over, Man! Devine, Holm, and Anderson team up once again — but instead of getting into office-related shenanigans, they're pitted against bonafide terrorists who threaten a hotel full of hostages, their potential video game benefactor, and worst of all, Jamaican-American musician Shaggy.
Game Over Man Trailer
Devine, Holm, and Anderson play three Los Angeles hotel waiters on the verge of a breakthrough on their video game, waiting on a potential beneficiary to come through for them. However, their deal is rudely interrupted when a group of terrorists led by Neal McDonough's Conrad Drothers takes the hotel hostage, threatening to kill the partying singer Shaggy unless he sings his multi-platinum hit "It Wasn't Me" (spoiler, he sings it). Alexx (Devine), Darren (Holm), Joel (Anderson) can only watch in horror as the hostage situation is inexplicably live-streamed, having miraculously escaped capture. At wit's end, the three of them decide to take matters into their own hands and go up against the terrorists. Shenanigans ensue..
It looks like a hysterical Die Hard spoof — irreverent, funny, and leaning heavily on the charm of Devine, Holm, and Anderson, whose chemistry has been honed to perfection thanks to their seven seasons together on Workaholics. And another layer that will help them recapture that Workaholics magic: Holm also wrote the script, which is directed by fellow Workaholics creator Kyle Newacheck.
Here is the official synopsis for Game Over, Man!:
Three friends must level-up and become heroes when their workplace, a Los Angeles hotel, is taken hostage by evil gunmen seeking a large ransom. Game Over, Man! is a dangerous comedy from the creators of Workaholics starring Adam Devine, Anders Holm, and Blake Anderson.
Game Over, Man! will be released on Netflix on March 23, 2018.