'Patrick Melrose' Trailer: Benedict Cumberbatch Is A "Narcissistic, Schizoid, Suicidal Alcoholic"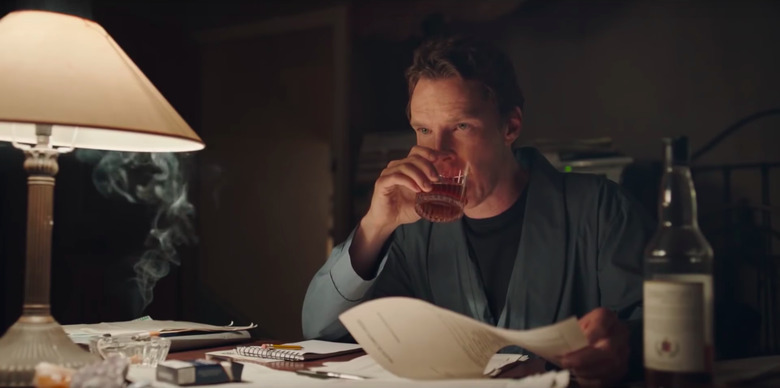 Benedict Cumberbatch has made a career off of playing charming, troubled geniuses — though in Patrick Melrose he's leaving off the "genius."
Based off of Edward St. Aubyn's award-winning series of novels, Patrick Melrose is a scathing examination of British decadent aristocracy, adapted into a five-part miniseries by Sky Atlantic and Showtime. And aside from the perfect casting of Cumberbatch (he should play every brooding misanthrope), Patrick Melrose boasts a surprisingly impressive cast of Hugo Weaving, Jennifer Jason Leigh, and Allison Williams.
Patrick Melrose Trailer
"Patrick: Narcissistic, schizoid, suicidal alcoholic," Benedict Cumberbatch breezily introduces himself as in the Patrick Melrose trailer, echoing the "high-functioning sociopath" label his equally troubled Sherlock Holmes once placed on himself in BBC's modern Sherlock series. In all honesty, Cumberbatch has almost transcended his roles, so synonymous with the sensitive brooder that his casting in Patrick Melrose seems merely like a delightful excuse to watch him drink, smoke, and curse his way up to an Emmy. But, to be fair, I would watch that in a heartbeat.
And look at that cast! Hugo Weaving, Jennifer Jason Leigh, Anna Madeley, Allison Williams and Blythe Danner all round out the cast of the five-part Patrick Melrose miniseries, a joint production between the British Sky Atlantic network and the U.S.-based Showtime.
Patrick Melrose is an adaptation of Edward St. Aubyn's semi-autobiographical novels about a dysfunctional English upper-class family through the lens of Cumberbatch's titular Patrick Melrose, who grapples with childhood abuse and adulthood alcoholism. Hugo Weaving threatens to steal the scenes from Cumberbatch's charming playboy as Patrick's strict and domineering father who is at the source of his son's trauma. Edward Berge directs the adaptation penned by Far from the Madding Crowd's David Nicholls.
Here is the official synopsis  for Patrick Melrose:
Based on the acclaimed Patrick Melrose series of novels written by Edward St. Aubyn and adapted by BAFTA award nominee David Nicholls (Far From the Madding Crowd, One Day), Melrose gleefully skewers the British upper class as it tracks the titular characters harrowing odyssey from a deeply traumatic childhood, through adult substance abuse and ultimately, towards recovery and redemption. Benedict Cumberbatch (The Imitation Game, Sherlock) plays Patrick Melrose, an aristocratic and outrageously funny playboy, who struggles to overcome the damage inflicted by an abusive father and a mother who tacitly condoned the behaviour. A true television saga, Melrose is both gripping and humorous, with a dramatic sweep that encompasses the South of France in the 1960s, debauched 1980s New York and sober Britain in the early 2000s. Melrose will devote an hour to each of the five novels, with each episode storytelling a few complicated and intense days in Patricks life.
Patrick Melrose will air on Sky Atlantic abroad and Showtime at home, later in 2018.