The New Blu-Ray Releases You Should Check Out: 'The Breakfast Club' Comes To Criterion And More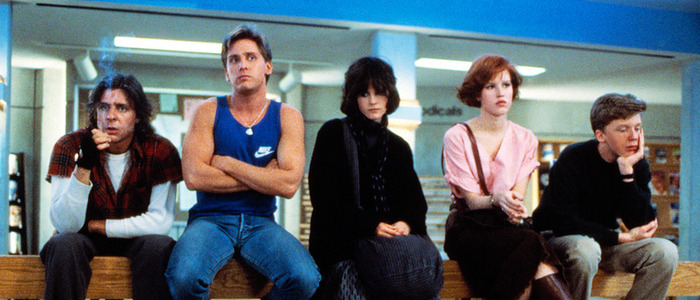 (Welcome to Not Dead Yet, a feature dedicated to what's new on Blu-ray and what special features you should be excited about. Because yes, some of us still like to own physical copies of our movies.)
Happy New Year! 2018 is just getting started – there's going to be a whole slew of exciting new Blu-ray titles to hit shelves this year. But first, here are some so-so films!
What we mostly have here are what I'd like to think of as holiday leftovers – films that weren't big enough to hit stores as part of the holiday shopping rush. That doesn't mean there's nothing of value here. In fact, there are some surprisingly good titles, including a Jackie Chan movie that rises above its premise, a Watergate-based drama, a survivalist film where Kate Winslet and Idris Elba crash a plane and then get sexy, and more. There's also a surprisingly controversial new release from The Criterion Collection. Here are the new Blu-ray releases you should check out this week.
The Breakfast Club
There's been a surprising amount of controversy surrounding the Criterion Collection release of John Hughes' The Breakfast Club. I'm using "controversy" in the the loosest sense of the word – as far as controversies go, this is small potatoes. But Criterion purists seem outraged that the collection would throw a bone to such a mainstream flick. I suppose I can see their point, but look at it this way: Criterion puts out many obscure, art house titles. If they need to release an overly-popular movie now and then to continue to be able to fund their more independent releases, so be it. I should also remind you that Criterion once released Michael Bay's Armageddon as part of the collection, so this sort of thing isn't exactly unprecedented.
That said, The Breakfast Club isn't some terrible piece of fluff. It's actually a surprisingly heartfelt portrait of dissatisfied youth. And if some of its ideas seem quaint and outdated now, that doesn't take away from its charm. For instance: one of the characters reveals he ended up in detention for bringing a gun to school. That's right: the strictest punishment a high school in the '80s could dish out for bringing firearms to class is a Saturday detention.
Written and directed by John Hughes, The Breakfast Club focuses on a group of misfits - Emilio Estevez as a jock, Anthony Michael Hall as a dweeb, Judd Nelson as a fingerless-glove wearing bad boy, Molly Ringwald as a spoiled princess, and Ally Sheedy as exactly the sort of weird, aloof goth girl I was always quietly crushing on in high school – banded together in one dreary Saturday detention. Through the course of the film, the youths are drawn closer together, and little by little, Hughes reveals more and more details about their individual personalities – reveals that the personas they put on aren't who they really are inside.
The Breakfast Club is a neat little time-capsule of a film, transporting viewers back to a time in the '80s where the hair was as big as the shoulder pads, and people listened to bands like Simple Minds. It may not be regarded by some as a classic in the same way as, say, The 400 Blows is. But the film does have its place in cinema history. For all his filmmaking flaws, Hughes was excellent at writing realistic teen dialogue. As Roger Ebert put it in his positive review of the film, Hughes' films made an "honest attempt to create teenagers who might seem plausible to other teenagers."Special Features to Note: One of the biggest draws here is fifty minutes of never-before-seen deleted scenes. An early cut of The Breakfast Cut ran at 150 minutes, which Hughes whittled down. The final version of the film is clearly the tighter, more concise cut, but these deleted scenes are fascinating. What makes them stand out is that they're very, very raw – we're talking grainy footage, no music, original audio. The footage here is so unfinished that you can hear John Hughes and his crew off camera calling out directions, or yelling "Cut!" It's almost as if the footage is transporting you back in time and putting you directly on the set.
There's a fifty-minute documentary from 2008 about the film, featuring Ally Sheedy, Judd Nelson, Anthony Michael Hall, Amy Heckerling, Diablo Cody and more. The theme of this doc isn't so much on The Breakfast Club as it is about John Hughes, with everyone praising the late director left and right. Judd Nelson says that Hughes was sick of the term "kids movie" being a negative term, and he strove to elevate the genre. Ally Sheedy says that while there are plenty of high school movies, few live up to Breakfast Club. Anthony Michael Hall praises Hughes' ear for realistic dialogue.
Beyond this, there are also new interviews with Molly Ringwald and Ally Sheedy, with the actresses discussing how they came to be cast in the film, and what it was like to work with Hughes. A charmingly dated Electronic Press Kit, with video graphics straight out of a high school AV Club, feature archival interviews and an extremely chipper narrator walking you through the production. Describe the Ruckus has Judd Nelson provides narration through John Hughes' actual notebooks and production notes, with script excerpts and character breakdowns. All-in-all, this is one of the most detailed releases from Criterion in a while.
Special Features Include:
4K digital restoration, with uncompressed monaural soundtrack on the Blu-ray
Alternate 5.1 surround DTS-HD Master Audio soundtrack on the Blu-ray
Audio commentary from 2008 featuring actors Anthony Michael Hall and Judd Nelson
New interviews with actors Molly Ringwald and Ally Sheedy
New video essay featuring director John Hughes's production notes, read by Nelson
Documentary from 2008 featuring interviews with cast and crew
Fifty minutes of never-before-seen deleted and extended scenes
Rare promotional and archival interviews
Excerpts from a 1985 American Film Institute seminar with Hughes
1999 radio interview with Hughes
Segment from a 1985 episode of NBC's Today featuring the film's cast
Audio interview with Ringwald from a 2014 episode of This American Life
Trailer
PLUS: An essay by author and critic David Kamp
Mark Felt: The Man Who Brought Down the White House
A film about a proponent of democracy working to stop a corrupt president should seem like a vital, important film right now, but Mark Felt: The Man Who Brought Down the White House fizzles a bit. Writer-director Peter Landesman sets out to tell the true story of Mark Felt, the Associate Director of the FBI who leaked info to the Washington Post about Richard Nixon's corruption, and earned himself the nickname Deep Throat. We saw one side of this story – from the point of view of the journalists – presented in All The President's Men. Mark Felt attempts to tell the other side of the tale.
To its credit, Landesman's film doesn't glorify Felt; it doesn't present him as a champion always striving to do the right thing. Instead, Mark Felt makes the case that the real reason Felt turned on the Nixon administration was because they wouldn't stop meddling in the duties of Felt's precious FBI. As Felt puts it, the FBI is an entirely independent organization, and it doesn't owe the White House a damn thing, Nixon's White House thought differently, of course – and that's why Felt decided to help bring them down.
All of this should make for a compelling film. But strangely, it doesn't. For one thing, Mark Felt's script is plagued with moments where character's walk into rooms, spot someone else, and then loudly announce their full names and job titles, to better tell the audience who they are, i.e. "Why, there's Ed Miller, the FBI Intel Chief!" It never sounds natural, and it's always distracting.
That said, Mark Felt is worth seeing for one specific reason: Liam Neeson. Neeson has settled into a sort of action-dad grove in this later half of his career, constantly playing variations of his character from Taken. But before he was an aging ass-kicker, Neeson played serious, quiet, dramatic parts. Mark Felt gives him an opportunity to go back to that, and he's marvelous at it. I actually think this might be one of the best performances of Neeson's career – it's a quiet, calculating performance occasionally punctuated with bursts of frustration. There's also an underlying sadness to Neeson's portrayal of Felt – a sense that while he knows he's doing the right thing, he also can't help but wonder if it even really matters. A long, silent shot on Neeson's face at the end of the film, where the actor looks like he's about to crumble as his lower lip quivers ever-so-slightly, is marvelous, and a reminder that Neeson still has some great performances left in him.
Special Features to Note: The documentary feature "The Secrets of Making Mark Felt" is full of some interesting insight into the production of the film. Writer-director Peter Landesman comes from an investigative journalism background, and he put those skills to use researching the film over a period of years. Landesman reveals he spent time with the real Felt and his family three years before Felt's death (Felt died in 2008), and then spent even more time after with Felt's daughter, all to research the film. For his part, Liam Neeson says he too did a lot of research, pouring over FBI files. The actor goes on to say that he wanted to play Felt like a world-class poker player who was impossible to read.
When it came to making the film, Landesman goes on to say that he made a point to shoot a lot of close-ups of Neeson's eyes, as a large part of Neeson's performance relies on the actor silently turning things over in his head. There's one long shot in a car that stays entirely fixed to Neeson's eyes as someone relays information to him.
Beyond that, there's a few deleted scenes. Some of them are useless – there's a thirty-second deleted scene where Diane Lane, playing Felt's wife, removes a wig, for seemingly no reason. But there's also a lengthy deleted scene from the very end of the film, which keeps the story going long after the theatrical cut ends, and reveals even more flaws in Felt's character. This may be the more honest ending, but I personally like the theatrical version.
Special Features Include:
Deleted & Extended Scenes
"The Secrets of Making Mark Felt" Featurette
Commentary with Director Peter Landesman
The Mountain Between Us 
Kate Winslet and Idris Elba get stranded on a mountain after a plane crash, and then they have some sex. But first, they have to go through a bunch of survivalist stuff. But be honest: you just want them to get down to the sex. The Mountain Between Us is a curious little film – it's low on big moments, not really interested in big dramatic stuff. Instead, Hany Abu-Assad's film almost feels like a throwback to the golden age of the New Hollywood movement, when filmmakers and studios were interested in character-driven stories. Is The Mountain Between Us as good as one of those New Hollywood films? Absolutely not. But it's trying.
Winslet and Elba have a strange chemistry together. They spark, but they spark in odd ways, and a large chunk of the film is devoted to keeping them from even acknowledging they want to quit with all the hiking through snow and get with the heavy petting. If anything, The Mountain Between Us is yet another reminder of what a charismatic actor Idris Elba is – if only his agent could find him some better roles.
Oh yeah, there's also a dog in this movie! The dog survives the plane crash with Winslet and Elba, and becomes their companion. Best of all: the dog lives. Is that a spoiler? Look, I don't care. I'm happy the dog survives.

Special Features to Note: A mini-feature called "Love and Survival: Creating Chemistry" is mostly focused on the writing and creation of the film. Novelist Charles Martin describes the origin of the story for the novel that inspired the film, and how quickly the novel got optioned for a film. The producers had lofty expectations for the movie  – thinking of it in terms of "great romances" like Doctor Zhivago.
Other features include a look at shooting on location in the snowy mountains. To The Mountain Between Us' credit, rather than rely on green screens to plug in the background, the film strove to shoot on location. Director Hany Abu-Assad says that authenticity is important, and really wanted to film up in the mountains to make the whole experience more believable. This, of course, proved challenging, with cast and crew having to be helicoptered up onto snowy mountain peaks high above the tree line. At one point, the cast and crew were filming in -38 degrees. So don't let anyone tell you movie making is easy.
Beyond this, there's a brief (about 5 minutes) feature on how the stunts were created, including a moment that reveals that in a scene where Kate Winslet is submerged in icy water, the temperature was -5 degrees – the water was heated, though, so don't worry. Also, Winslet has some history dealing with icy water, after having successfully murdered Jack Dawson by not letting him have a spot on a floating door from the Titanic.
My only complaint about these features: not enough of them focus on the dog. There should've been an hour-long documentary all about that dog, damn it.
Special Features Include:
Love and Survival: Creating Chemistry
Mountain Between Them: Shooting in Isolation
The Wilds: Survival Stunts
Deleted Scenes
Gallery
The Foreigner
Jackie Chan gets his own sort-of Taken movie with the surprisingly intense The Foreigner. After a bombing from an organization claiming to be a new offshoot of the IRA kills Chan's daughter, he understandably wants revenge. Of course, Chan's character has a particular set of skills, and he sets about putting them to use in creative, violent ways. The focus of Chan's wrath is Pierce Brosnan, who plays a government official with former IRA-ties. Chan thinks Brosnan can point him toward the bombers; Brosnan wants no part of it. Punching, kicking and explosions follow.The Foreigner comes from Goldeneye director Martin Campbell, and while on the surface it might seem like another action flick, there's a little more than meets the eye going on here. For starters, this is a more sullen, dramatic turn from Chan than most of his English-language audience fans might be used to. Chan gets to stretch his dramatic chops here, playing an emotionally damaged character who has no qualms about spilling blood. But the film also gives the actor and stuntman plenty of opportunities to kick some ass and defy gravity.
Brosnan should consider settling into a bad guy phase of his career, because he plays the morally conflicted heavy quite nicely. Far removed from his smooth James Bond days, Brosnan's character here is an unsubtle, easily rankled government man who really wishes Jackie Chan would just leave him the hell alone. Meanwhile, the rest of the film is surprisingly full of moments that develop the rest of the cast – even somewhat minor roles are fleshed-out, to a surprising degree. Overall, The Foreigner rises above its material, and is definitely worth seeing.
Special Features to Note: Sadly, the special features here are slim. There's a "Making Of" feature that't not even five minutes long. Instead, it's just a series of lightning-quick interviews with Martin Campbell, Pierce Brosnan and Jackie Chan praising each other and the film. The same thing goes for a series of individual interviews with the three, where they have nothing but nice words to say about each other, and where Campbell stresses that while the film is certainly Taken-esque, it goes down paths that Taken did not.
The less-than-thorough special features here are a bummer. Chan is an actor who has always done his own stunts, and I'm assuming that's the case here. It would've been fascinating to have a feature that went behind-the-scenes to show how the 63-year-old superstar still manages to throw himself into big action scenes. Alas, it's not to be.
Special Features Include: 
The Making of The Foreigner
Interviews
Trailer #1
Trailer #2
Killing Gunther 
Holy shit, this movie is bad. Look, I know the idea behind this column is to focus on "the new Blu-ray releases you should check out," and if you want to check out Killing Gunther out of some sort of morbid curiosity, then you should. But yikes, I was not prepared for how dreadful this movie turned out to be. Former Saturday Night Live performer Taran Killam writes, directs and stars here, and while I think Killam is funny and talented, Gunther is a total misfire.
For reasons I'm pretty sure no one involved with the film even understands, Killing Gunther is presented in a faux-documentary format. It's totally unnecessary, and more often than not the film completely abandons this idea, only to grudgingly return to it. The premise involves Killam as a world-class assassin who assembles a team of fellow assassins (including Bobby Moynihan and Hannah Simone) with on goal: killing super assassin Gunther.
What follows is a comedy of errors, but the real error is probably even watching Killing Gunther to begin with. When it came to making this film, Killam seemed to believe that in order to make the movie funnier, everyone had to be loud, so as a result scene after scene features characters screaming at each other, to the point where you might end up with a headache.
Killing Gunther only really comes alive in its final few moments, when Gunther finally shows up. The character is played by none other than Arnold Schwarzenegger, who proceeds to steal the film. Sporting a stylish haircut and loud-yet-fashionable clothes, Schwarzenegger cuts a hilarious figure. Also, he seems to be the only actor here who is in on how stupid this movie is, and as a result, has fun with it. I'd say that Killing Gunther is worth seeing for Schwarzenegger's performance alone, but since that amounts to about fifteen minutes total, you might want to steer clear.
Special Features to Note: Oh, hell – who cares? This movie is bad, you don't need any special features. But if you want them, they're here. There's a blooper reel that's funnier than that film itself, and a few deleted scenes, none of which add much of anything. Killing Gunther, everyone!Special Features Include:
Blooper Reel
Deleted Scenes