'Slender Man' Trailer: The Internet Myth Comes To Life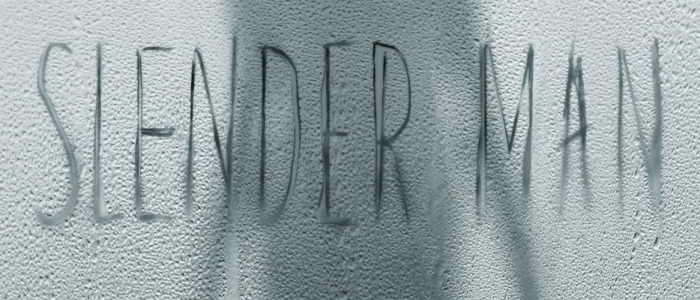 Slender Man, the creepy, well-dressed supernatural creature who originated as a creepypasta meme, has taken on a life of his own since his original 2009 incarnation. The character has found its way into the public consciousness, and even inspired a real-life attempted murder. Now the murderous ghoul is getting his own movie, Slender Man, and the first Slender Man trailer has arrived to give everyone the creeps.
In 2009, Eric Knudsen took to the Something Awful forum and posted two photoshopped images that appeared to show an abnormally tall, well-dressed supernatural being tormenting some children. Knudsen likely couldn't have predicted that these images would give birth to a cultural phenomenon, but here we are. Other internet users took up Knudsen's creation, dubbed Slender Man, and proceeded to turn the character into a boogeyman for the 21st century. Slender Man inspired memes, video games, and even an actual attempted murder in 2014, when two 12-year-old girls stabbed one of their classmates in an attempted sacrifice to the online ghoul. Now, Slender Man has his own big Hollywood movie from director Sylvain White. And the first Slender Man trailer (premiered by the folks at IGN) is ready to give you nightmares.
Slender Man Trailer
It's kind of surprising it took this long for a big Slender Man movie to find its way to theaters, but here we are. There have been a few cheap knock-off movies that were clearly trying to cash-in on the myth, including the 2012 film The Tall Man and last year's horrendous The Bye-Bye Man. In 2016, HBO aired the documentary Beware the Slenderman, which primarily focused on the events surrounding the 2014 stabbing incident. Sadly, it wasn't a very good movie. Unlike the knock-offs, this new film bears the official Slender Man brand name, which will likely help it out with audiences.
Sylvan White, who helmed the 2010 comic book movie The Losers and a whole bunch of TV, including Sleepy Hollow, Empire and The Following, directs this big screen take on the meme-monster, with a script from David Birke, who penned Paul Verhoeven's Elle. Slender Man stars Jaz Sinclair (Paper Towns), Joey King (The Conjuring and Wish Upon), Julia Goldani Telles (Gilmore Girls: A Year in the Life), Annalise Basso (Ouija: Origin of Evil) and Alex Fitzalan.
There's potential here, but I also can't help but wonder if Slender Man still has the power to scare people. The character has become so oversaturated into popular culture that there's a chance he's lost his bite before he even had a chance to star in his own big screen movie. We shall see. Meanwhile, if you're looking for more creepypasta-inspired horror, check out the excellent Syfy series Channel Zero, which takes the same sort of concepts as Slender Man and spins them into entire seasons of TV.