The 'Black Mirror' Cameos You My Have Missed, Plus 'USS Callister' Spin-Off A Possibility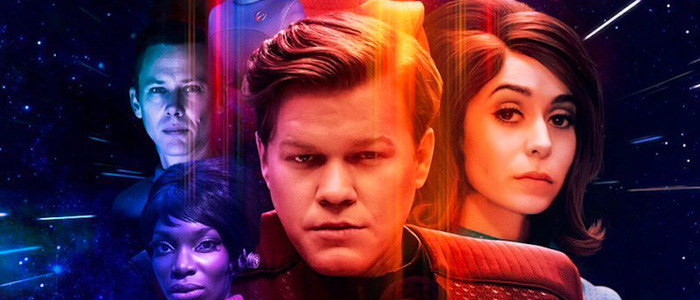 Black Mirror season 4 dropped onto Netflix just before the end of 2017, which means you're likely all caught-up on it by now, right? If so, come along with me on a journey through a list of Black Mirror cameos you may have missed!
Also: the director of the Black Mirror episode "USS Callister" says he's more than ready to launch an entire spin-off series based around that one particular Star Trek-inspired segment.
If you have yet to catch up with Black Mirror season 4, you might want to beware of possible spoilers here. In the Black Mirror episode "USS Callister", there were two very quick, very subtle cameos that may have passed you by. The episode finds several characters trapped within a Star Trek-like series, that actually turns out to be a big, deceptive computer simulation (which is pretty much the go-to Black Mirror twist at this point). Near the end of the episode, the inhabitants of the digital world have a quick confrontation with the voice of an angry, online gamer. There's a chance that voice sounded familiar to you: it belongs to none other than Aaron Paul, of Breaking Bad and Bojack Horseman fame. Not to be smug or anything, but I absolutely noticed this cameo – Paul's raspy voice is very distinct. I will freely admit that I totally missed the other big "USS Callister" cameo, however.
Eagle-eyed viewers over at Syfy noticed a blink-and-you'll-miss-it cameo from Kirsten Dunst. Here's a screenshot that shows Dunst hustling to get out of frame before anyone can notice she's there.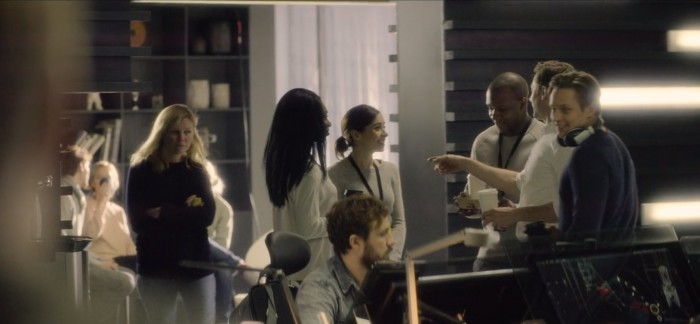 Dunst's cameo here may seem random, but the actress is actually engaged to "USS Callister" star Jesse Plemons (in fact, the two recently announced they're expecting their first child together; mazal tov!); Plemons and Dunst also previously appeared together on Fargo. So there you have it: Kirsten Dunst is now officially part of the Black Mirror universe. Speaking of the Black Mirror universe, how would you like to see it to expand even further?
Speaking with The Hollywood Reporter, Toby Haynes, who helmed "USS Callister", says that he'd be more than willing to launch an entire new Black Mirror spin-off based on the episode. "'USS Callister' is probably one of the best pilots for a space show ever," says Haynes, adding:
"I was talking with Louise Sutton, who produced this and "Metalhead," and she cooked up a brilliant idea of spinning it off into a TV series. I'd love to do a TV series of "USS Callister"...I'm keen to see it as a TV series. I think [Black Mirror creator Charlie [Brooker] might revisit it as a Black Mirror. Whether I'm the one to do it, I don't know. Being a fan of the show as much as I am, and being a part of making it, I'd love to work with that crew and cast again. It's a gift for a director."
Without giving too much away, the end of "USS Callister" ends with the starship's crew jettisoning off to explore vast reaches of (cyber)space, which could very well set the stage for an entire series. That said, the series would likely end up seeming like another Galaxy Quest (or perhaps the FOX series The Orville). Still, this idea has potential if handled correctly.
Black Mirror season 4 is now streaming on Netflix.