Female-Led Films Top Box Office For The First Time In 59 Years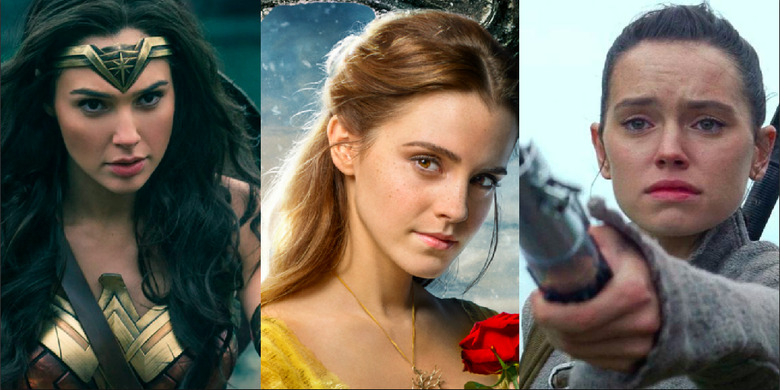 The last time women lead the highest-performing movies at the box office, Elizabeth Taylor slinked around an eastern Mississippi estate in a skin-tight white négligée. But 59 years later, women rule the box office again.
The three top-performing films of 2017, Star Wars: The Last Jedi, Beauty and the Beast, and Wonder Woman, were all headlined by female leads, the first time this has happened in cinematic history since 1958. It's been a long time coming, but I can now proudly proclaim: Who run the world? Girls.
An unprecedented amount of female-led films topped the box office in 2017, The Wrap reported. Star Wars: The Last Jedi, which featured Daisy Ridley's aspiring Jedi Rey, skyrocketed to the top of the box office charts this Sunday, becoming the highest-grossing movie of 2017 with $533 million domestically. It was followed closely by Emma Watson's Beauty and the Beast at $504 million and Gal Gadot's Wonder Woman at $412 million.
The last time this happened was in 1958 when audiences flocked to Rodgers and Hammerstein musical South Pacific (starring Mitzi Gaynor), the screwball comedy Auntie Mame (Rosalind Russell), and the Tennessee Williams drama Cat on a Hot Tin Roof (Elizabeth Taylor), according to data from Box Office Madness, which tracks charts before 1980, and Box Office Mojo, which tracks charts after 1980.
And Gal Gadot is not just making history at the box office. The Israeli actress cracked the top three in Forbes highest-grossing actors list, with her big-budget films Wonder Woman and Justice League earning $1.4 billion worldwide. Vin Diesel and Dwayne just beat her at 1.6 billion and 1.5 billion, respectively, but Ridley follows closely behind with the No. 6 spot at $1.08 billion. With each passing Forbes list, you can see the pay gap slowly inching to a close.
This is a huge leap for women, who in years past have made it to the top of Forbes' highest-grossing actors list through ensemble films. While Ridley is ostensibly the main character within a large cast in Star Wars, Wonder Woman and Beauty and the Beast are centered around its lead female characters — a phenomenon that we've seen grow in popularity and box office appeal since Jennifer Lawrence nocked her arrow in the Hunger Games franchise. And 2018 looks to be even better for women, with female-led and helmed films like Natalie Portman in Annihilation, Taraji P. Henson in Proud Mary, the all-female Ocean's 8 reboot, and the Ava Duvernay-directed A Wrinkle in Time adaptation.