'Castle Rock': Even Stephen King Doesn't Know What's Up With This Stephen King Show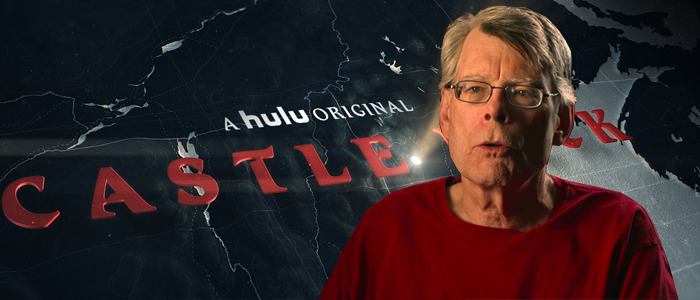 Castle Rock, Hulu's upcoming anthology series set in the multiverse of author Stephen King, has been shrouded in secrecy since it was announced. In fact, that shroud is so thick that even King himself has no clue what's going on with the show. Read the latest Stephen King Castle Rock comments below, and learn everything we do know about the show thus far.
A recent piece from Entertainment Weekly looks back on King's incredible 2017 – the guy had movies or TV shows made from The Dark Tower, It, Gerald's Game, 1922, Mr. Mercedes, and The Mist, in addition to all of the writing he did himself over the course of the year. But one thing King seemingly has absolutely no idea about is the upcoming Castle Rock TV series, which is set in his fictional Maine town and serves as sort of a loose crossover of many of his stories over the years. Sam Shaw (Manhattan) and Dustin Thomason (Lie to Me) created the show, and they'll executive produce it alongside the notoriously secretive J.J. Abrams. When prompted about the series, King basically told EW that he knows nothing about it:
"I'm as much in the dark as anybody else. I don't know anything about it so I just hope it turns out really well. It must be going okay. It's typical J.J. There's been nothing that I've seen in the press, or anything, about it."
You know that mystery box is slammed shut with a huge padlock on it when the man whose work serves as the direct inspiration for a show can't even get a peek inside. I suppose we shouldn't be too surprised to see that Abrams' well-tested approach is being employed for a show with this much curiosity pointed at it.
So what do we know about Castle Rock? For starters, here's the official synopsis:
A psychological-horror series set in the Stephen King multiverse, Castle Rock combines the mythological scale and intimate character storytelling of King's best-loved works, weaving an epic saga of darkness and light, played out on a few square miles of Maine woodland. The fictional Maine town of Castle Rock has figured prominently in King's literary career: Cujo, The Dark Half, IT and Needful Things, as well as novella The Body and numerous short stories such as Rita Hayworth and The Shawshank Redemption are either set there or contain references to Castle Rock. Castle Rock is an original suspense/thriller — a first-of-its-kind reimagining that explores the themes and worlds uniting the entire King canon, while brushing up against some of his most iconic and beloved stories.
A first-look teaser was released during last year's New York Comic Con:
That trailer doesn't give too much away in terms of plot, but we know Andre Holland (Moonlight) stars as attorney Henry Deaver, Sissy Spacek (Carrie) plays his adoptive mother Ruth, and Scott Glenn (Daredevil) appears as Sheriff Alan Pangborn, a regular in King's literary world. Melanie Lynskey (Togetherness) co-stars as real estate agent Molly Strand; Lost alum Terry O'Quinn is Dale Lacy, a pillar of the community; Jane Levy (Don't Breathe) plays Jackie, an amateur historian of the town; and Bill Skarsgard – who played Pennywise in last year's It – plays a death row inmate connected to Holland's Henry Deaver.
For more details, I'd highly recommend checking out our full breakdown of the trailer from /Film's resident Stephen King enthusiast Chris Evangelista, who points out a bunch of references and easter eggs you may have missed.
Castle Rock debuts on Hulu sometime in 2018.